Easy Bramley apple & sultana teabread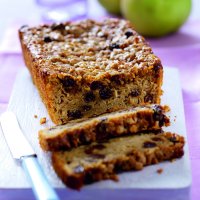 Cheap ingredients, quick to make, but packed full of flavour and perfect with a lovely cup of tea!
Serves: 6 - 8
Cost: Approx £0.35 per portion
Preparation time: 15 minutes
Cooking time: 50 minutes
What you need:
25g porridge oats
50g Muscovado sugar
2 medium Bramley apples, cored, skinned and grated
6 tbsp apple juice
4 tbsp olive oil
115g self raising flour
115g sultanas
½ tsp baking powder
1tsp mixed spice
1 medium egg, beaten
What you do:
Pre heat the oven to 180°C, Gas Mark 4.
Place the oats and sugar into a bowl, add the grated apple, juice and oil, mix well and then leave for 15 minutes.
Add the flour, sultanas, baking powder, mixed spice and egg and mix well, but carefully.
Spoon the mixture into a greased and lined 1lb loaf tin.
Bake for 45 - 50 minutes, then remove from the oven and cool slightly.
When cool, slice and serve with a smidgeon of olive oil spread (if that's allowed)
Copyright Phil Vickery
This page can be found at: http://secretsauce.co.uk/cakes-desserts/cake-recipes/easy-bramley-apple-and-sultana-teabread/
A short link can also be used: http://bit.ly/exAiHX
Bramley Apples

The Bramley is rightly recognised by professional chefs and home cooks alike as the best apple for cooking. Grown only in Britain, the Bramley's unique qualities make it one of the most versatile ingredients, equally at home in a savoury stir fry as a traditional apple pie.
More from Bramley Apples

These are tasty snacks, which may be served warm or cold

The blend of hot spices, sour flavours and lentils make a dhansak a popular curry. Try serving it with basmati rice and a cooling raita.

A traditional, fruity Bramley Apple Crumble developed for children by celebrity chef Phil Vickery
Popular in cake recipes

This recipe just makes my mouth water! Smooth, sweet buttercream with tempting, moist chocolate cake. Don't try and resist!

Classic lemon drizzle cake with a twist! The elderflower cordial adds an extra sweet flavour to this delicious cake. Try it and see!

For a surprising treat, the tomato ketchup cake is sure to tantalise your tastebuds!