Ultimate Yorkshire puddings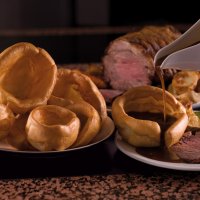 Who better to devise the ultimate Yorkshire pudding recipe than Dean Roche, food development chef for Toby Carvery?
What you need:
1/2 pint (285 millilitres) milk
4 ounces (115 grams) all-purpose flour
Pinch salt
3 eggs
Beef Dripping/Vegetable oil (for Vegetarians)
What you do:
Find a glass or ceramic bowl large enough to hold the batter mix.
Put the flour and seasoning into the bowl and make a well in the middle. Crack the Eggs into the middle of the well and mix until combined. Gradually add the milk and whisk in to ensure that no lumps are present.
Allow the batter to stand for at least 1 hour.
Put the Beef dripping into a Yorkshire pudding tin. I find a 4in tin the best. Put the tin in the oven until the dripping has melted and a blue haze appears. The dripping should come up the tin one third of the way. Then add the Yorkshire pudding batter and return to the oven at 190oC.
Do not open the oven for the next 20 minutes. After 20 minutes open the oven and you will have beautifully well risen Yorkshire puddings.
This page can be found at: http://secretsauce.co.uk/vegetarian/yorkshire-pudding-recipes/ultimate-yorkshire-pudding/
A short link can also be used: http://bit.ly/eYTQsp
Skandi Candle
Pure soy wax candles in Flack Fig & Vetiver or Lemon fragrances - perfect for any dinner party or romantic night in.
Toby Carvery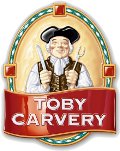 Toby Carvery
restaurants go out of their way to make sure every day feels like the best ever Sunday - so you and your family enjoy great carvery and pub food, have a drink and relish some relaxed, quality time.