Tomato ketchup cake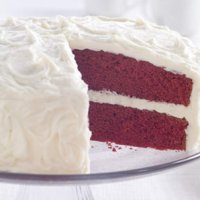 For a surprising treat, the tomato ketchup cake is sure to tantalise your tastebuds!
Preparation: 20 mins
Cooking: 30 mins
Serves: 12
What you need:
450g plain flour, sieved
2tsp baking powder
1 1/2tsp cinnamon
1tsp bicarbonate of soda
1/2tsp ground nutmeg
1/2tsp ground ginger
125ml Heinz Tomato Ketchup
125ml water
2tbsp natural red food colouring
175g butter, softened
350g dark brown sugar
2 eggs
Frosting
175g cream cheese, softened
175g butter, softened
1tsp vanilla essence
500g icing sugar
What you do:
Preheat the oven to 180°C.
Grease two 23 cm round cake tins and line the bottoms with baking parchment.
Mix the flour, baking powder, cinnamon, bicarbonate of soda, nutmeg and ginger into a bowl.
Stir the Heinz Tomato Ketchup, water and colouring in a separate bowl. Set aside.
Beat the butter and sugar in a large bowl until smooth.
Beat in the eggs, gradually.
Add the flour mixture and ketchup mixture.
Beat slowly, scraping down the bowl as needed,until combined.
Beat at high speed for 1 minute.
Divide the batter evenly between the prepared cake tins.
Bake for 30 minutes or until the centre springs back when touched lightly.
Cool the cakes for 15 minutes before turning onto a rack to cool completely.
Frosting:
Beat the cream cheese, butter and vanilla for 2 minutes or until smooth.
Gradually beat in the sugar, scraping the bowl as needed.
Beat at high speed until fluffy.
Fill between the cake layers and over the sides and top of the cake.
This page can be found at: http://secretsauce.co.uk/cakes-desserts/cake-recipes/tomato-ketchup-cake/
A short link can also be used: http://bit.ly/gqfbIv
Heinz Tomato Ketchup

Heinz have launched their Secret Ingredient campaign to help parents create meals from scratch which appeal to the whole family.
Celebrity chef Paul Rankin (a regular on Ready, Steady, Cook) has helped to create a range of delicious recipes, all featuring Heinz Tomato Ketchup as the secret ingredient. These recipes have been created to be healthy, quick and easy.
More from Heinz Tomato Ketchup

A quick and easy family favourite, with great flavour.

A beautifully colourful chilli con carne with a dollop of soured cream

Gorgeous lasagne, sure to impress the eyes and taste buds
Popular in cake recipes

This recipe just makes my mouth water! Smooth, sweet buttercream with tempting, moist chocolate cake. Don't try and resist!

Classic lemon drizzle cake with a twist! The elderflower cordial adds an extra sweet flavour to this delicious cake. Try it and see!

Cheap ingredients, quick to make, but packed full of flavour and perfect with a lovely cup of tea!