Smoked sausage & tomato pasta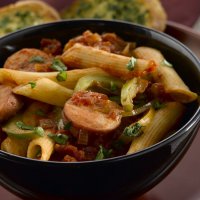 If you've never tried pasta with sausage in it, this is the perfect recipe for you to put on the table - your family will thank you for it!
Serves: A family of 4
What you need:
1 Mattessons Smoked Pork Sausage - sliced
400g Dried penne pasta
1 Onion - diced
1 Green pepper - thinly sliced
2 tablespoons vegetable oil
1 400g can of tinned tomatoes
3 tbsp tomato ketchup
1 heaped tbsp (or 4 tsp) tomato puree
1 teaspoon Worcestershire sauce
a handful of fresh basil
Salt and ground black pepper to taste
What you do:
Cook the pasta in boiling water according to the pack instructions.
Meanwhile heat the oil in a frying pan, add the onion and gently cook for 5 minutes.
Add the green pepper and cook for another 2 minutes before adding the sliced Smoked Pork Sausage.
Pour in the can of tinned of tomatoes, add the tomato ketchup, tomato puree and Worcestershire sauce and allow to simmer for 5 minutes, stirring regularly.
Drain the cooked pasta, add into the sauce and add salt and black pepper to taste.
Roughly chop the fresh bail leaves, add to the sauce and stir.
Remove from heat and serve immediately with garlic bread and a crisp Italian leaf salad.
This page can be found at: http://secretsauce.co.uk/pasta-rice/sausage-recipes/smoked-sausage-tomato-pasta/
A short link can also be used: http://bit.ly/e2drBa
Skandi Candle
Pure soy wax candles in Flack Fig & Vetiver or Lemon fragrances - perfect for any dinner party or romantic night in.
Mattessons Smoked Pork Sausage

Mattessons
Smoked Pork Sausage come in four varieties - reduced fat, original smoked, garlic smoked and hot and spicy smoked.
More from Mattessons Smoked Pork Sausage

Feed your family for less than £3 with this credit crunch winter warmer smoked pork sausage and bean casserole

Sausage and mustard added to fresh green leaves creates a lovely warm salad - perfect for summer and winter!
Popular in sausage recipes

Fancy bangers but run out of potatoes? Grab the pasta from the store cupboard and this tomato and sausage linguine could be the answer to your prayers