Creamy mushroom stroganoff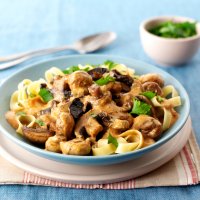 Actress Tamzin Outhwaite is a great fan of mushrooms, she says: "I always have mushrooms on my shopping list. As well as being tasty and good for you, they're so versatile. My recipe is perfect for a quick, delicious but healthy supper on a Monday night after a weekend of naughty food. Enjoy!"
Preparation: 5 mins
Cooking: 15-20 mins
Serves: 4
What you need:
350g tagliatelle
1 tbsp olive oil
1 small onion, chopped
75g button mushrooms
150g white closed cup mushrooms, sliced
150g large flat mushrooms, sliced
1 clove garlic, crushed
2 tsp ground paprika
3 tbsp dry sherry
1 tbsp tomato puree
2 tsp Dijon mustard
squeeze of lemon juice
150ml half fat creme fraiche
2 tbsp chopped fresh flat parsley
What to do:
Bring a large pan of water to the boil. Add the tagliatelle and cook for 10mins or according to packet instructions until just tender.
Whilst the pasta cooks make the sauce: Heat the oil in a large frying pan, when hot add onions the mushrooms and sauté for 5 mins over a high heat until golden brown. Add the garlic and paprika cook for 30 seconds stirring.
Add the sherry, puree mustard and lemon juice, stir and cook for about 30 seconds, stirring. Stir in the creme fraiche and cook over a gentle heat until piping hot. Season to taste.
Drain the tagliatelle and divide between four bowls. Top with the mushroom mixture and scatter over the parsley.
Nutritional info:
This creamy stroganoff is perfect for a chilly autumn evening meal. The tagliatelle is a good source of complex carbohydrate which provides slow release energy, replacing that lost after a busy day. A rich carbohydrate meal is also thought to promote the production of the brain chemical serotonin, helping to make you feel relaxed and aid a restful night's sleep. The use of the half fat crème fraiche keeps the fat content of the dish down without affecting the creamy texture. Each serving contains only 14% of the GDA (Guideline Daily Amount) for fat.
This page can be found at: http://secretsauce.co.uk/pasta-rice/tagliatelle-recipes/creamy-mushroom-stroganoff/
A short link can also be used: http://bit.ly/dXJ0BD
Skandi Candle
Pure soy wax candles in Flack Fig & Vetiver or Lemon fragrances - perfect for any dinner party or romantic night in.
Mushroom Bureau

Not only are mushrooms inexpensive and versatile, they are also satisfying, delicious and nutritious. Their succulent and unique meaty taste adds depth and gives a balanced flavour to dishes, making them a scrumptious meat substitute.
More from Mushroom Bureau

Tender prawns are great in stir-fries, the cashew nuts give this dish an added crunch and the shiitake mushrooms are tender and full of flavour

This delicious spaghetti dish is ready in under 15 minutes and you could serve it cold for a packed lunch the next day!

These little mushroom pies look so impressive but are really easy and quick to make.
Popular in tagliatelle recipes

Creamy, delicious and filling - an easy and satisfying meal for the family

A delicious mid-week supper that's all ready to serve in under 20 minutes, devised by celebrity chef Silvana Franco. This is a vegetarian-friendly version of the Italian classic, Carbonara