Lamb Dhansak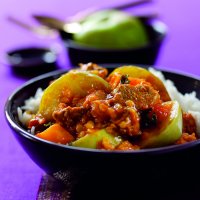 The Indian community in the United Kingdom is now in its third generation, with an estimated population of 1,051,800. Dhansak is a popular dish of Persian origin and should be medium to hot in spiciness. Often containing fruit, this version incorporates the Bramley apple.
Preparation time: 10 minutes
Cooking time: 50-55 minutes
Serves: 4-6
What you need:
2 tbsp vegetable oil
2 cloves garlic, sliced
2cm piece root ginger, peeled and chopped
1 green chilli, deseeded and chopped
1 onion, chopped
500g/1lb lamb neck fillet, cubed
225g/8oz sweet potatoes, peeled and cubed
75g/3oz split red lentils
3 tbsp medium curry paste
1 400g can tomatoes
2 tbsp tomato puree
400ml/14 fl.oz water
25g butter
2 tbsp caster sugar
500g Bramley apples, peeled, cored and sliced
1 tbsp tamarind paste (optional)
3 tbsp chopped fresh mint
Salt and ground black pepper
Basmati rice to serve
What you do:
Heat the oil in a large pan; add the garlic, ginger, chilli and onion and sauté for 5 minutes until the onions are pale and golden. Stir in the lamb, potatoes and lentils and cook, stirring occasionally for 3 minutes.
Add the tomatoes, puree and water and season with a little salt and pepper. Cover and simmer for 30 minutes or until the lamb is tender and the lentils have become
soft.
Whilst the lamb simmers, melt the butter and sugar in a non-stick frying pan. Add the Bramley apple slices and sauté for 4-5 minutes, stirring occasionally until pale and golden. Set aside.
4. Stir the Bramley apple slices into the lamb with the tamarind paste and mint. Cover and simmer for a further 5 minutes. Adjust the seasoning to taste. Serve hot with basmati rice.
This page can be found at: http://secretsauce.co.uk/meat-poultry/lamb-recipes/lamb-dhansak/
A short link can also be used: http://bit.ly/e6P7g6
Bramley Apples

The Bramley is rightly recognised by professional chefs and home cooks alike as the best apple for cooking. Grown only in Britain, the Bramley's unique qualities make it one of the most versatile ingredients, equally at home in a savoury stir fry as a traditional apple pie.
More from Bramley Apples

Cheap ingredients, quick to make, but packed full of flavour and perfect with a lovely cup of tea!

These are tasty snacks, which may be served warm or cold

A traditional, fruity Bramley Apple Crumble developed for children by celebrity chef Phil Vickery
Popular in lamb recipes

A taste of the middle east, perfect for a mid-week supper

You can't beat a baked dish for feeding the family - and this is one of the best, made easy for you with red and white sauces for lasagne.

Juicy lamb shanks with shallots, mint and harissa sauce create a fantastic Tunisian dish - just serve with couscous