Chocolate cake with buttercream filling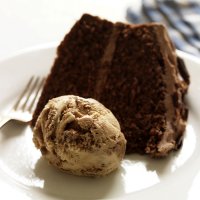 This recipe just makes my mouth water! Smooth, sweet buttercream with tempting, moist chocolate cake. Don't try and resist!
Makes a 20cm cake
What you need:
For the cake:
A little flour, for dusting
225g caster sugar
225g softened unsalted butter
6 eggs
70g cocoa powder mixed to a paste with a little hot water
200g self-raising flour
1 tbsp milk
For the chocolate buttercream:
250g unsalted butter, softened
200g icing sugar, sifted
50g cocoa powder
Grated dark chocolate, to decorate
What you do:
Preheat the oven to 150°C/300°F/Gas Mark 2. Butter two 20cm cake tins and dust lightly with flour. Beat the sugar and butter together until pale and fluffy, and then beat in the eggs one by one. Fold in the cocoa and flour along with the milk. Divide the mixture between the prepared tins and bake for about 40 minutes, or until the sponge feels firm to the touch and a skewer comes out clean when inserted. Turn the sponges out of the tin and allow to cool.
To make the buttercream in the meantime, whisk the butter with the icing sugar and cocoa powder until light and soft. When the cake is cool, turn one sponge over and spread with the buttercream. Place the other sponge on top then spread the remaining butter cream on the surface of the cake, making pretty swirls with a knife. Scatter the chocolate gratings onto the surface.
Serve with scoops of Kelly's Coffee Latte Clotted Cream ice cream.
This page can be found at: http://secretsauce.co.uk/cakes-desserts/cake-recipes/chocolate-cake-with-buttercream-filling/
A short link can also be used: http://bit.ly/fQZ99a
Skandi Candle
Pure soy wax candles in Flack Fig & Vetiver or Lemon fragrances - perfect for any dinner party or romantic night in.
Kelly's of Cornwall

Made with clotted cream and whole milk, fresh from the cows that graze on Cornwall's lush green grass, Kelly's of Cornwall Ice Cream has a distinctive creamy flavour and velvety smoothness that you won't find in any other ice cream. Perfect for sharing at home, Kelly's is the ideal accompaniment for any family or special meal occasion.
More from Kelly's of Cornwall

Lovely chocolatey gooey brownies - serve them on their own with cups of tea, or with dollops of ice cream to make a delicious dessert

The only effort involved in this summery strawberry meringue dessert is using an electric whisk and cooking meringues in the oven. The rest is a breeze!

Blackcurrant ice cream is a great addition to teatime treats such as shortbread biscuits, adding a creamy fruity finish
Popular in cake recipes

Classic lemon drizzle cake with a twist! The elderflower cordial adds an extra sweet flavour to this delicious cake. Try it and see!

For a surprising treat, the tomato ketchup cake is sure to tantalise your tastebuds!

Cheap ingredients, quick to make, but packed full of flavour and perfect with a lovely cup of tea!