Chocolate dipped strawberries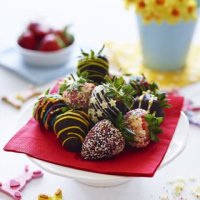 Viva strawberries and chocolate are a match made in heaven and make a delicious treat and a healthier alternative to a bar of chocolate. They are the perfect treat for a special occasion, and even help you get your 5-a-day around Easter.
Preparation: 30 mins
Serves: 30
What you need:
200g dark chocolate
20 Viva strawberries (approx.)
100g white chocolate buttons
range of food colouring (optional)
small cake decorations such as silver balls or hundreds and thousands (optional)
What you do:
Start by melting the dark chocolate in a heatproof bowl over a pan of barely simmering water. Make sure the base of the bowl does not touch the water. Break the chocolate into small pieces and allow to melt slowly without stirring. While this is happening, lay a piece of parchment paper down.
Once the chocolate has melted, remove from the heat, and allow to cool for 5 minutes. Holding the Viva strawberry by the leaves dip the Viva strawberry completely into the chocolate, right up to top, so just the green is left. Hold the Viva strawberry up and allow the excess to drip off.
Carefully lay the Viva strawberry down onto the parchment paper and allow to cool completely. Continue with all the Viva strawberries.
Melt the white chocolate in the same way. Once melted divide the chocolate into bowls and if using food colouring, colour the white chocolate with the different food colouring at this stage.
Pour the melted white chocolate into disposable piping bags. Snip a tiny hole in the end of the piping bag, and drizzle the chocolate over the Viva strawberries. You could do lines, dots or zigzags and alternate colours and designs. If you don't have a piping bag, use a teaspoon to drizzle the chocolate over the Viva strawberries.
Attach decorations (if using) while the white chocolate is still melted and tacky. Use any remaining white chocolate to coat some extra Viva strawberries. Allow to set completely, and enjoy the same day.
Cook's tip:
Watch the video for how to tips!
This page can be found at: http://secretsauce.co.uk/cakes-desserts/strawberry-recipes/chocolate-dipped-strawberries/
A short link can also be used: http://bit.ly/1Dcpqfu
Skandi Candle
Pure soy wax candles in Flack Fig & Vetiver or Lemon fragrances - perfect for any dinner party or romantic night in.
Viva Strawberry
More from Viva Strawberry

Macaroons are the perfect dessert to follow a romantic dinner - the perfect treat!

Making delicious homemade ice-cream doesn't have to be difficult thanks to this easy strawberry ice-cream

These fluffy pancakes are perfect for a leisurely breakfast or tasty afternoon treat.
Popular in strawberry recipes

Macaroons are the perfect dessert to follow a romantic dinner - the perfect treat!

These just look so good, don't they? And they're easy to make and delicious too

An impressive fruity dessert that's very quick and easy to make