Meat & poultry
These little sausages wrapped in bacon are as traditional at Christmas dinner as turkey, but this recipe has a fruity little twist!

Fenland celery tastes delicious when roasted. Cooking it in little parcels keeps all the flavours and lovely juices in. Try this easy recipe for family suppers, children love anything wrapped up!

This lovely classic French dish is halfway between a saute and a stew

The aromatic taste of juniperberry & black pepper-infused beetroot is wonderful tossed through this salad which makes for a substantial lunch or light supper.

Alex says: 'This is simply yummy, as spicy as you fancy with the King Edwards catching a lovely lick of the chicken's roasting juices.'
Most viewed in meat & poultry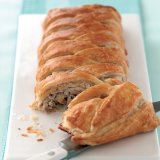 This is a classic British dish that's like a giant sausage roll. Serve with greens and mustard for a traditional dinner for two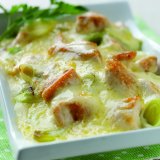 For a quick and easy evening meal, chicken, leek and Cheddar bake, with melt in the mouth cheese, will be a firm family favourite that takes just 10 minutes to prepare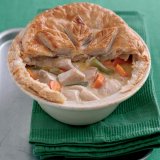 While you're getting this together, why not double up on the ingredients and freeze a lovely chicken and leek pie for another time?