Elderflower & lemon drizzle cake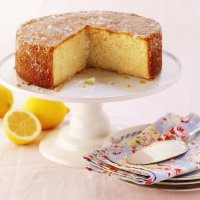 Classic lemon drizzle cake with a twist! The elderflower cordial adds an extra sweet flavour to this delicious cake. Try it and see!
Serves: 12
Preparation time: 20 minutes
Cooking time: 45-50minutes
What you do:
225g/8oz butter, softened
225g/8oz caster sugar
4 large eggs
225g/8oz self raising flour, sifted
zest and juice 1 lemon
100ml/4floz Belvoir's elderflower cordial
30ml/ 2 tbsp granulated sugar
What you need:
Preheat the oven to 180C/ Fan160C/Gas Mark 4. Grease a (20cm) round, deep loose-based tin and base line with baking parchment.
Place the butter sugar and lemon zest in a large bowl. Use an electric whisk to beat the butter and sugar together untl they are pale and fluffy. Gradually add the eggs, whisking well between additions and adding 2 tbsp of the flour with the last egg - this will prevent curdling.
Sift over the remaining flour, then gently fold in with a metal spoon along with 2 tbsp hot water. Spoon into the prepared tin, level the surface and bake for 45-50mins or until it is shrinking away from the sides of the tin. A fine skewer inserted in the centre should come out clean. Cool in the tin for 5 mins.
Squeeze the lemon juice, then sieve to remove the bits, stir in the cordial. Use the fine skewer to prick the cake all over, pour over the syrup then sprinkle over the sugar - it should sink in but leave a crunchy crust. Leave to cool completely, before removing the cake from the tin. Serve in wedges.
This page can be found at: http://secretsauce.co.uk/cakes-desserts/cake-recipes/elderflower-and-lemon-drizzle-cake/
A short link can also be used: http://bit.ly/dTesri
Belvoir Fruit Farms

Belvoir Fruit Farms make naturally delicious and real drinks. Elderflowers are grown on their farm and fruit is pressed and ginger and lemongrass cooked to make sure the drinks taste real and fruity. No flavourings or any artificial ingredients are used.
More from Belvoir Fruit Farms

I bet it's a while since you tasted a gooseberry and there's no better way to refresh your memory than with this lovely gooseberry mojito

Choose a fragrant white wine for this recipe such as a sauvignon blanc, the elderflower scents of these grapes is accentuated by the elderflower cordial.

Christmas may have been and gone, but if you still need a bit of cheer, cup your hands around this tasty tipple and feel toasty inside and out
Popular in cake recipes

This recipe just makes my mouth water! Smooth, sweet buttercream with tempting, moist chocolate cake. Don't try and resist!

For a surprising treat, the tomato ketchup cake is sure to tantalise your tastebuds!

Cheap ingredients, quick to make, but packed full of flavour and perfect with a lovely cup of tea!