Chicken, leek & cheddar bake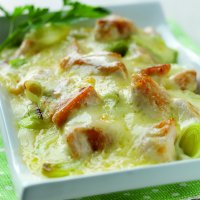 For a quick and easy evening meal, chicken, leek and cheddar bake, with melt in the mouth cheese, will be a firm family favourite that takes just 10 minutes to prepare
Serves: 4
Preparation time: 10 minutes
Cooking time: 15-20 minutes
What you need:
1 tbsp oil
4 chicken breasts, diced
2 leeks, washed and sliced
25g Country Life butter
2 tbsp plain flour
300ml semi skimmed milk
125g Cathedral City Cheddar Cheese, grated
What you do:
Heat the oil in a large non-stick frying pan and fry the chicken for 5 minutes. Add the leeks and fry for 10 minutes, covered.
Meanwhile, melt the butter in a small saucepan and stir in the flour, cook for 1 minute. Off the heat, gradually whisk in the milk then bring to the boil until thickened, stirring. Season and add half the Cheddar and stir until melted.
Place the chicken in a heatproof serving dish and pour over the cheese sauce. Sprinkle over the remaining cheese and place under a preheated grill for 2-3 minutes until golden and bubbling.

Serve with a green salad.
This page can be found at: http://secretsauce.co.uk/meat-poultry/chicken-recipes/chicken-leek-cheddar-bake/
A short link can also be used: http://bit.ly/dERG8L
Skandi Candle
Pure soy wax candles in Flack Fig & Vetiver or Lemon fragrances - perfect for any dinner party or romantic night in.
Dairy Crest

Dairy foods including milk, butter and cheese are a valuable and versatile part of a healthy balanced diet and can all be delivered to your door by your Dairy Crest milkman, without you even needing to leave home.
More from Dairy Crest

This strawberry cheesecake makes your mouth water just at the sight of it - so it's not too much of a stretch to imagine how much your tastebuds will like this too!

A juicy, tender steak with a traditional peppercorn sauce and an added chilli kick, ready in just 10 minutes

This is a really healthy, good for you breakfast that tastes delicious too with fruit mixed berries and sweet strawberry yoghurt
Popular in chicken recipes

While you're getting this together, why not double up on the ingredients and freeze a lovely chicken and leek pie for another time?

Easy to prepare, these chicken dippers are perfect handed round at parties!

This chicken, pesto and spinach tart looks so delicious it seems a shame to cut into it! But once you do, don't expect it to be there for long!