Fenland celery, herb & bacon parcels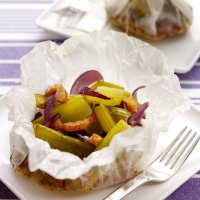 Fenland celery tastes delicious when roasted. Cooking it in little parcels keeps all the flavours and lovely juices in. Try this easy recipe for family suppers, children love anything wrapped up!
Preparation: 10 mins
Cooking: 40 mins
Serves: 4
What you need:
6-8 Fenland celery sticks
200g smoked bacon lardons
1 red onion, peeled and cut into wedges
Pinch of sage, thyme and rosemary, chopped
4 tbsp olive oil
2 tsp Dijon mustard
2 tsp cider vinegar
What you do:
Cut the Fenland celery into approx. 3 cm pieces, removing any tough ends or strings.
Heat 1 tbsp of the oil in a frying pan and gently cook the Fenland celery and onion for 10 minutes, remove and add the bacon and cook until crispy.
Cut 4 x 30cm circles of baking parchment, divide the Fenland celery and onion between the circles, then sprinkle over the herbs and bacon.
Mix together the remaining olive oil, Dijon mustard and vinegar, this is best done in an empty lidded jam jar and giving it a good shake, divide between the Fenland celery parcels.
Wrap up the parcels by bringing the edges together and tying with a piece of string, place on a baking tin and cook for 30 minutes.
Leave the parcels to cool for a few minutes before carefully opening.
Cook's tip:
Fenland celery is a heritage variety of celery grown in the Cambridgeshire Fens. In 2013, Fenland celery was awarded Protected Geographical Indication (PGI) status and joined the ranks of Parma ham, Champagne and Melton Mowbray Pork Pies. Fenland celery is only grown in small pockets of Cambridgeshire, Suffolk and Norfolk using traditional farming methods. The deep, peaty soils in the Fens work towards giving Fenland celery its nutty-sweet flavour and paler colour. Fenland celery is available from October to December and can be found in Waitrose, Ocado, Wholefoods and Marks & Spencer.
This page can be found at: http://secretsauce.co.uk/meat-poultry/bacon-recipes/fenland-celery-herb-and-bacon-parcels/
A short link can also be used: http://bit.ly/1Aw0D3T
Skandi Candle
Pure soy wax candles in Flack Fig & Vetiver or Lemon fragrances - perfect for any dinner party or romantic night in.
Fenland Celery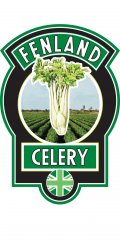 Fenland Celery is a heritage winter celery variety. It is paler in colour than standard celery and has unique 'nutty-sweet' flavour.
The unique growing method involves banking the soil up around the celery head as it grows to protect it from the frost and gives the celery its exceptional flavour.
More from Fenland Celery

Quick and easy to make whilst being very light and healthy, this is good food at its best.

Ooh, melted cheese with the perfect dippers and a sweet apple chutney. Yum!

A filling fishy chowder to keep the winter chills right the other side of the front door where they belong
Popular in bacon recipes

Ever seen bacon in a curry? See if this recipe converts you!

Bored of your usual lunch and have absolutely no time to spare? This delicious salad packs a real punch of flavours and is ready in under 15 minutes.

Only got 5 minutes to cook a meal for 4? This one's tasty, filling and ready in a flash