Phil Vickery's apple crumble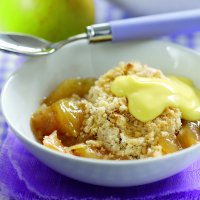 A traditional, fruity Bramley Apple Crumble developed for children by celebrity chef Phil Vickery
Preparation: 20 mins
Cooking: 35 mins
Serves: 4
What you need:
4 large Bramley cooking apples
4 tbsp olive oil
zest and juice of 2 large lemons
175g unrefined castor sugar
2 pinches cinnamon powder
175g plain flour
225g cold unsalted butter
140g castor sugar
few porridge oats
What you do:
Pre heat the oven to 200C, Gas 6.
Peel and core the apples and cut into large chunks.
Heat the oil, add the lemon zest and juice, 175g sugar, cinnamon in a saucepan and add the apples.
Cook for 3-4 minutes to soften slightly.
Tip into a large baking dish say 25cm square roughly.
Place the cold butter and flour into a food processor and blitz until you have fine breadcrumbs.
Tip into a bowl and stir through the sugar carefully.
Spoon over the top of the stewed apples and sprinkle over the oats.
Bake in the pre heated oven for 35 - 40 minutes or until well browned.
Serve with custard and, or ice cream.
Cook's tip:
Love crumble! Its so easy to make. The big, big rule is never to add the sugar to the crumble until the butter is rubbed into the flour. The reason is that the sugar and butter will cream, or mix together, a bit like a sponge mixture and the crumble will be heavy and more like pastry. So gently mix the sugar through with a spoon at the end. Then just pour over the coked apple. Do not pack down and leave as light and fluffy as possible.
Copyright Phil Vickery
This page can be found at: http://secretsauce.co.uk/cakes-desserts/apple-recipes/phil-vickerys-apple-crumble/
A short link can also be used: http://bit.ly/ho7eB4
Bramley Apples

The Bramley is rightly recognised by professional chefs and home cooks alike as the best apple for cooking. Grown only in Britain, the Bramley's unique qualities make it one of the most versatile ingredients, equally at home in a savoury stir fry as a traditional apple pie.
More from Bramley Apples

Cheap ingredients, quick to make, but packed full of flavour and perfect with a lovely cup of tea!

These are tasty snacks, which may be served warm or cold

The blend of hot spices, sour flavours and lentils make a dhansak a popular curry. Try serving it with basmati rice and a cooling raita.
Popular in apple recipes

Flapjacks are great for desserts, snacks and even lunchboxes, so make up a tray and watch them disappear!

These are tasty snacks, which may be served warm or cold

Mmmmmm apple pies. The smell of them baking, the first cut of the fork into the pastry and the apples oozing out...