Chocolate & raspberry cake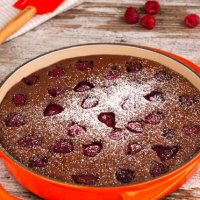 This rich chocolate cake has a hidden tang from the raspberries it contains. It can be served warm as a dessert but also slices well when cold as a cake.
Cooking: 30 mins
Serves: 8
What you need:
250g (9oz) plain dark chocolate
225g (8oz) butter
1 teaspoon instant coffee
5 medium eggs
75g (3oz) caster sugar
75g (3oz) sifted plain flour
175g (6oz) fresh
raspberries
little icing sugar for dusting
What you do:
Oven: 160°C/325°F/Gas Mark 3 pre-heated
Grease the tatin dish and line the base with a circle of greaseproof paper.
Put the chocolate, butter, coffee and 1 tablespoons of water into the saucepan. Place over a medium heat and melt together, stirring occasionally. Cool slightly.
Put the eggs and sugar into a large bowl and beat until thick and pale in colour. (This may take 4-5 minutes using an electric hand mixer).
Using a metal spoon gently fold the chocolate into the eggs, followed by the flour.
Pour into the tatin dish and sprinkle the raspberries evenly over the top.
Bake in the centre of the oven for 30-35 minutes until the cake is well risen and springy to the touch.
Allow to cool for 10 minutes in the dish then ease around the edge with a round bladed knife before turning out onto a large serving plate.
When cool remove the paper and turn the cake over so that the raspberries are on the top.; Dust with icing sugar.
Cook's tip:
Note: Frozen raspberries can be used. Thaw thoroughly and drain off any excess juice.
This page can be found at: http://secretsauce.co.uk/cakes-desserts/cake-recipes/chocolate-and-raspberry-cake/
A short link can also be used: http://bit.ly/H8bQw2
Le Creuset

Le Creuset is recognised the world over for market-leading, premium quality ranges of enamelled cast iron cookware, multi-ply stainless steel, toughened non-stick, stoneware and ceramics, along with its outstanding range of wine accessories.
More from Le Creuset

A cataplana takes its name from the Moorish designed copper domed dish it was originally cooked in. Serve traditionally straight from the cooking pot with crusty bread.

These small filled crepes make a delicious appetiser, snack or a light supper. They can be prepared in advance, chilled and re-heated on the crepe pan just before serving.

It takes a little more time to prepare this recipe but the cooked result is worth it. A mature Cheddar cheese is used for the stuffing and sauce, but feta cheese also works well.
Popular in cake recipes

This recipe just makes my mouth water! Smooth, sweet buttercream with tempting, moist chocolate cake. Don't try and resist!

Classic lemon drizzle cake with a twist! The elderflower cordial adds an extra sweet flavour to this delicious cake. Try it and see!

For a surprising treat, the tomato ketchup cake is sure to tantalise your tastebuds!