Crepes with smoked trout soft cheese & dill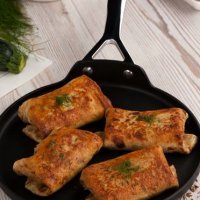 These small filled crepes make a delicious appetiser, snack or a light supper. They can be prepared in advance, chilled and re-heated on the crepe pan just before serving.
What you need:
Crepe batter:
125 g (1 cup) wholemeal flour
1/2 teaspoon salt
little freshly ground black pepper
2 medium eggs
2 level teaspoons caraway seeds
300 ml (scant 1 1/2 cups ) semi skimmed milk
2 tablespoons vegetable oil
Vegetable oil for frying
Filling:
1 shallot chopped finely
1 medium courgette, grated coarsely
125 g (4 ounces) cooked smoked trout fillet, flaked
3 tablespoons soft cream cheese, (such as Philadelphia)
2 level tablespoons fresh chopped dill
little salt
2 good pinches cayenne pepper
What you do:
To make the crepe batter put the flour, salt, pepper and caraway seeds into a bowl. Make a well in the centre adding the eggs and half the milk. Whisk until smooth.
Add the remaining milk with 2 tablespoons vegetable oil. If possible, leave to stand for 1 - 2 hours before using. If the mixture thickens after standing, add 1 - 2 more tablespoons of milk, it should have the consistency of un-whipped cream.
To make the filling heat the oil in the saucepan, add the shallot and fry for just a minute or two without colouring. Stir in the grated courgette and fry for 1 minute.
Add all the remaining ingredients and over a low heat stir until the cream cheese has melted down to bind everything together. Taste and adjust the seasoning. Cover and keep warm.
To cook the crepes, wipe the surface of the pan with a little oil and heat over a medium to high heat (not full heat).
When hot add 3 tablespoons (1/2 cup) of batter to the centre of the pan, swirling it so that it spreads to a diameter of approximately 18cm (7 inches). Cook until bubbles are visible beneath the surface. Turn the crepe over and cook the other side until it is pale golden brown.
Slide the crepe from the pan to a warmed plate. Stack as they are cooked, they will not stick together and cover loosely with a piece of aluminium foil to keep them warm.
To serve: Put a heaped tablespoon of the filling towards one edge of the crepe closest to you, spreading it a little. Fold this edge over the filling followed by the two side edges. Roll forward to form a parcel with the join underneath.
For serving, heat 1 tablespoon vegetable oil on the crepe pan. When hot add the filled crepes and fry until they are crisp and evenly browned all over.
Cook's tip:
If they are prepared a few hours in advance of serving, cover and chill in the refrigerator.
Serve hot with a little green salad and a spoonful of lightly flavoured garlic mayonnaise.
This page can be found at: http://secretsauce.co.uk/fish-seafood/pancake-recipes/crepes-with-smoked-trout-soft-cheese-and-dill/
A short link can also be used: http://bit.ly/A2Yo0I
Le Creuset

Le Creuset is recognised the world over for market-leading, premium quality ranges of enamelled cast iron cookware, multi-ply stainless steel, toughened non-stick, stoneware and ceramics, along with its outstanding range of wine accessories.
More from Le Creuset

A cataplana takes its name from the Moorish designed copper domed dish it was originally cooked in. Serve traditionally straight from the cooking pot with crusty bread.

This rich chocolate cake has a hidden tang from the raspberries it contains. It can be served warm as a dessert but also slices well when cold as a cake.

It takes a little more time to prepare this recipe but the cooked result is worth it. A mature Cheddar cheese is used for the stuffing and sauce, but feta cheese also works well.
Popular in pancake recipes

A fantastic recipe for brunch - it looks decadent and you'll soon be wanting it every day!

A Northumbrian specialty pancake