Chicken roulades with spinach & cheese stuffing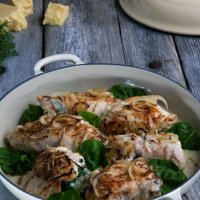 It takes a little more time to prepare this recipe but the cooked result is worth it. A mature Cheddar cheese is used for the stuffing and sauce, but feta cheese also works well. Don't worry if some of the stuffing cheese escapes into the liquid, because it will all be incorporated into the sauce.
Preparation: 30 mins
Cooking: 45 mins
Serves: 4
What you need:
4 Boned and skinned chicken breasts
1/4 tsp Ground nutmeg
1/2 tsp Dried thyme
85g Young spinach
150g Gruyeye cheese, in one piece
1 1/2 tbsp Vegetables oil
1 small Onion, sliced thinly
165ml Hot chicken stock
1 tbsp Cornflour
165ml Skimmed milk
What you do:
Place the chicken breasts between sheets of plastic wrap. Pound them with a heavy rolling pin until they are about twice as large, but not so thin you can see through them.
Sprinkle each one with a little nutmeg, thyme, and seasoning, followed by a few leaves of the raw spinach, dividing these equally between the 6 pieces.
Cut three quarters of the cheese into finger-size pieces. Place one in the middle of the spinach on each chicken piece. Roll up the chicken pieces 'swiss roll' fashion, tucking in the side edges to enclose the cheese. Secure with thin string or cocktail sticks.
Heat the oil in the shallow casserole over medium heat on the hob.
Add the onion and fry gently until it is just beginning to soften.
Add the chicken roulades and brown them evenly on all sides. Scallops of pork or turkey make a delicious alternative for this dish.
Gradually add half the hot stock around the roulades with a little seasoning. Cover and simmer slowly for 30 to 40 minutes until the chicken is very tender.
Lift the roulades out of the pan and keep them hot on the upturned lid. Carefully remove the strings or cocktail sticks.
Add the remaining stock to the cooking liquid and bring this to a simmer.
Blend the cornflour with a little of the milk, then stir this and the remaining milk into the liquid, simmering and stirring until the sauce thickens.
Finely grate the remaining cheese into the sauce, stirring until it melts.
Taste and adjust the seasoning before returning the roulades to the sauce to reheat.
Cook's tip:
Serve with boiled plain rice or noodles.
This page can be found at: http://secretsauce.co.uk/meat-poultry/chicken-recipes/chicken-roulades-with-spinach-and-cheese-stuffing/
A short link can also be used: http://bit.ly/xpj30y
Le Creuset

Le Creuset is recognised the world over for market-leading, premium quality ranges of enamelled cast iron cookware, multi-ply stainless steel, toughened non-stick, stoneware and ceramics, along with its outstanding range of wine accessories.
More from Le Creuset

A cataplana takes its name from the Moorish designed copper domed dish it was originally cooked in. Serve traditionally straight from the cooking pot with crusty bread.

These small filled crepes make a delicious appetiser, snack or a light supper. They can be prepared in advance, chilled and re-heated on the crepe pan just before serving.

This rich chocolate cake has a hidden tang from the raspberries it contains. It can be served warm as a dessert but also slices well when cold as a cake.
Popular in chicken recipes

For a quick and easy evening meal, chicken, leek and Cheddar bake, with melt in the mouth cheese, will be a firm family favourite that takes just 10 minutes to prepare

While you're getting this together, why not double up on the ingredients and freeze a lovely chicken and leek pie for another time?

Easy to prepare, these chicken dippers are perfect handed round at parties!