Upside down puff tarts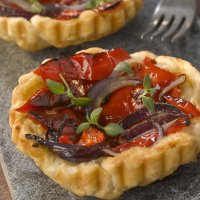 These delicious little tarts are ideal as a starter, snack or main meal. Either use ready roasted vegetables or roast off in individual dishes/tins and then quickly pop the puff pastry round on top and immediately return to the oven.
What you need:
4 x Jus-RolTM Individual Puff Pastry Rounds - thawed
2 small red onions
2 small red peppers
Little oil for drizzling
Few fresh thyme or basil leaves for garnish if desired
What you do:
Preheat oven to 220oC (200 oC for fan assisted ovens) 425oF, Gas Mark 7
Peel onions and cut each into half, then each half into 4-6 wedges. Cut peppers into medium sized pieces, removing seeds.
Arrange the vegetables in lightly greased bases of 4 individual flan tins or dishes or other shallow, ovenproof dishes. Pack tightly as they will shrink slightly on cooking, drizzle with oil and cook for 6-8 minutes until they are just beginning to soften.
Remove dishes from oven (best to have them on a baking tray for ease of handling) and quickly place a puff pastry round over each, tucking in around the edges. Return immediately to the oven and bake for 15-18 minutes until pastry is well risen and golden brown.
Remove from oven and turn out immediately by inverting each dish onto a warmed serving plate.
Serve warm with salad or vegetables of your choice.
This page can be found at: http://secretsauce.co.uk/vegetarian/tart-recipes/upside-down-puff-tarts/
A short link can also be used: http://bit.ly/h8a3o6
Jus-Rol

Jus-Rol is the UK's pioneering pastry company, committed to providing the highest quality chilled and frozen pastry products. The product range includes ready rolled pastry sheets in both puff and shortcrust pastry, pastry blocks, as well as individual puff pastry rounds, large shortcrust pastry cases and handy pie lids.
More from Jus-Rol

A delicious, fruity dessert - the best in comfort food and just mouth-watering served with a big dollop of creamy custard

This chicken, pesto and spinach tart looks so delicious it seems a shame to cut into it! But once you do, don't expect it to be there for long!

A delicious quick and easy open tart, perfect for a summer lunch or picnic
Popular in tart recipes

Sophie says: 'This is a lovely combination, plus it's a really interesting dish to bring out for vegetarian guests too.'

A family meal that takes 15 minutes to prepare, costs 55p per portion and will still leave some for lunch the next day - it's a dream come true!

A lovely vegetarian tart perfect for the family, just serve with a fresh green salad and you'll be well on your way to five a day