Mushroom, spinach & ricotta tarts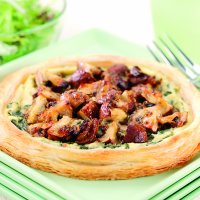 A lovely vegetarian tart perfect for the family, just serve with a fresh green salad and you'll be well on your way to five a day
Preparation time: 20 minutes
Cooking time: 35 minutes
Serves: 4
Nutritional information:
545 kcals per serving
40g fat
What you need:
250g (9oz) brown/chestnut mushrooms, thickly sliced
10ml (2 teasp) honey grain mustard (or mix wholegrain mustard with honey)
60ml (4 tablesp) olive oil
175g (6oz) fresh spinach
150g (5oz) ricotta cheese
30ml (2 tablesp) chives, finely chopped
1.25ml (¼ teasp) nutmeg, grated
2 medium eggs, beaten
Salt and pepper
350g (12oz) puff pastry
What you do:
Pre-heat oven 200º C, 400º F, Gas no 6. Put sliced mushrooms on a baking tray. Mix together the mustard and olive oil and drizzle over the mushrooms. Roast mushrooms until soft and all moisture has evaporated. (approx. 15 minutes).

Rinse spinach and blanch until just losing its shape, then drain and wring out all moisture. Chop spinach finely.

Mix together ricotta, spinach, chives, nutmeg and beaten eggs. Season to taste.

Roll out pastry according to pack instructions and cut into four 18cm (6") circles. Use the trimmings to make raised borders to each tart. Place on greased baking sheets and prick the bases with a fork. Fill each tart with the ricotta mixture and then spoon mushrooms on top. Bake for 20 minutes until golden.
Recipe created by the Cordon Vert cookery school
This page can be found at: http://secretsauce.co.uk/vegetarian/tart-recipes/mushroom-spinach-and-ricotta-tarts/
A short link can also be used: http://bit.ly/dNRXcX
Vegetarian Society

The Vegetarian Society is a registered charity committed to promoting the health, environmental and welfare benefits of a vegetarian diet.
More from Vegetarian Society

These Halloween snails look deliciously slimy. Who's going to be brave enough to take the first bite?

A fantastic ale and mushroom pie recipe perfect to warm you up when it's chilly outside and you want something tasty and filling

Need some get up and go in the morning? This smoothie is just what you need. Ready, steady...
Popular in tart recipes

Sophie says: 'This is a lovely combination, plus it's a really interesting dish to bring out for vegetarian guests too.'

A family meal that takes 15 minutes to prepare, costs 55p per portion and will still leave some for lunch the next day - it's a dream come true!

This lovely summer carrot and goat's cheese tart recipe was devised for Chantenay by Rachel Green, Yorkshire TV's Flying Cook