Emmenthal & sweet caramelised onion tart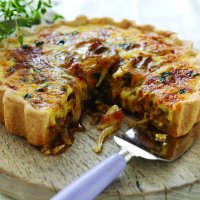 A family meal that takes 15 minutes to prepare, costs 55p per portion and will still leave some for lunch the next day - it's a dream come true!
Serves: 8
Cost approx: £0.55 per portion
Preparation: 15 minutes
Cooking: 45 - 50 minutes
What you do:
1 (375g) pack ready rolled short crust pastry
2 tbsp olive oil
3 onions, sliced
3 sprigs of thyme, leaves stripped
2.5ml / ½ tsp dried chilli flakes
salt and freshly ground black pepper
90ml / 6tbsp Baxters Sweet Caramelised Onion Chutney with Orange
3 eggs
150ml / ¼ pt whole milk
100g / 4oz Emmenthal or mature Cheddar cheese, grated
What you do:
Preheat the oven to 200ºC / Fan 180ºC / Gas Mark 6. Gently unroll the pastry, then use to line a 20cm / 8in round, deep fluted flan tin, pushing it firmly into the base and sides. Trim off excess pastry. Prick the base with a fork. Line with greaseproof paper and baking beans.
Bake the pastry case on a baking tray for 15 minutes, removing the paper and beans for the final 5 minutes, cook until the base has turned a pale golden colour.
Whilst the pastry cooks, heat the oil in a frying pan, add the onions and sauté for 3 - 4 minutes until soft. Season then add the thyme and chilli, reduce the heat and cook over a gentle heat for about 10 minutes or until the onions are golden and very soft. Stir in the chutney and cool.
Beat the eggs and milk together with a little seasoning. Scatter half the cheese over the pastry base, spoon over the onions. Finally pour in the egg mixture and scatter over the remaining cheese.
Bake for 30 - 35 minutes or until the tart is golden and the filling has set. Serve warm or cold with a crisp salad.
This page can be found at: http://secretsauce.co.uk/vegetarian/tart-recipes/emmenthal-and-sweet-caramelised-onion-tart/
A short link can also be used: http://bit.ly/gCbJmy
Baxters

The Baxters family, which is now in its fourth generation, has been producing some of Britain's finest soups, preserves, condiments, beetroot and a wide range of other fine quality food products since 1868.
More from Baxters

If this jam roly-poly pudding doesn't take you back to your childhood, then no pudding will!

This wonderfully rustic rosti topped bake makes a simple, mouth-watering main meal

If you're looking for a meal that's healthy, easy, cheap and quick, then this ticks all the boxes
Popular in tart recipes

Sophie says: 'This is a lovely combination, plus it's a really interesting dish to bring out for vegetarian guests too.'

A lovely vegetarian tart perfect for the family, just serve with a fresh green salad and you'll be well on your way to five a day

This lovely summer carrot and goat's cheese tart recipe was devised for Chantenay by Rachel Green, Yorkshire TV's Flying Cook