Chicken, pesto & spinach puff pastry open tart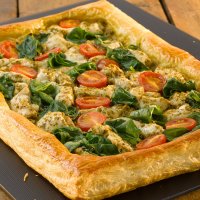 This chicken, pesto and spinach tart looks so delicious it seems a shame to cut into it! But once you do, don't expect it to be there for long!
What you need:
1 x Jus-Rol Puff Pastry sheet
Beaten egg or milk to glaze
3-4 tbsp pesto
200-250g fresh, skinless chicken, cut into thin strips
4-6 cherry tomatoes - halved
50g spinach leaves
What you do:
Preheat oven to 220°C (200°C for fan assisted ovens)/ 425°F/ Gas M7
Unroll pastry sheet onto baking tray. Combine the chicken with the pesto and spread over sheet, 1.
leaving a 2.5cm border all round edges.
Top with halved tomatoes and fresh spinach leaves, use 2-3 at a time scrunched into the gaps between 2.
chicken pieces. Brush the border with beaten egg and bake for approx. 20 minutes until the pastry is
risen and deep golden. Serve with salad and more spinach if desired.
This page can be found at: http://secretsauce.co.uk/meat-poultry/chicken-recipes/chicken-pesto-spinach-tart/
A short link can also be used: http://bit.ly/g21WFX
Jus-Rol

Jus-Rol is the UK's pioneering pastry company, committed to providing the highest quality chilled and frozen pastry products. The product range includes ready rolled pastry sheets in both puff and shortcrust pastry, pastry blocks, as well as individual puff pastry rounds, large shortcrust pastry cases and handy pie lids.
More from Jus-Rol

A delicious, fruity dessert - the best in comfort food and just mouth-watering served with a big dollop of creamy custard

A delicious quick and easy open tart, perfect for a summer lunch or picnic

These simple to make Danish pastries have interchangeable fillings so swap between shapes, or make them all!
Popular in chicken recipes

For a quick and easy evening meal, chicken, leek and Cheddar bake, with melt in the mouth cheese, will be a firm family favourite that takes just 10 minutes to prepare

While you're getting this together, why not double up on the ingredients and freeze a lovely chicken and leek pie for another time?

Easy to prepare, these chicken dippers are perfect handed round at parties!