Sophie Michell's strawberry & goat's cheese tart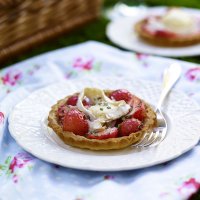 Sophie says: 'There is a theory that peppercorns really bring out the flavours of strawberries and I agree. This is a lovely combination, especially when paired with goats cheese. Plus it's a really interesting dish to bring out for vegetarian guests, too. I like to serve these tarts with a green salad.'
Preparation: 20 mins
Cooking: 40 mins
Serves: 4
What you need:
1 packet of frozen short crust pastry
400g Sweet Eve strawberries
1 tsp of cracked black pepper
1 sprig of rosemary
400g goat's cheese log (large)
What you do:
Preheat the oven to 200°C/180°C fan/Gas mark 6. Roll out the pastry on a floured surface, then cut out a circle big enough to fit each mini tin. Press down into the corners and blind bake the pastry for 20-30 minutes until cooked thoroughly.
Hull and halve the Sweet Eve strawberries and mix in a bowl with the black pepper. Chop the rosemary and mix with the Sweet Eve strawberries.
When the tart cases are ready, spoon in the Sweet Eve strawberries and then add a slice of goat's cheese on top of each one. Place the tarts back in the oven for 10 minutes.
This page can be found at: http://secretsauce.co.uk/vegetarian/tart-recipes/sophie-michells-strawberry-and-goats-cheese-tart/
A short link can also be used: http://bit.ly/1fZSRe2
Sweet Eve Strawberries

Sweet, juicy and plump, British strawberries are undeniably the taste of a good summer. Sweet Eve is a new variety of British strawberry. Packed with sweetness and flavour Sweet Eve is in season from June until October and it tastes like strawberries used to taste.
More from Sweet Eve Strawberries

Sophie says: 'I love making this as a celebration cake for special occasion - the layers of meringue with the fruit in between look very pretty.'

When it gets a bit wintry nothing beats a great crumble for dessert - it's sweet, crunchy and with a dribble of custard, perfect!

Strawberries, cream and a dash of cinnamon - the perfect pudding combination.
Popular in tart recipes

A family meal that takes 15 minutes to prepare, costs 55p per portion and will still leave some for lunch the next day - it's a dream come true!

A lovely vegetarian tart perfect for the family, just serve with a fresh green salad and you'll be well on your way to five a day

This lovely summer carrot and goat's cheese tart recipe was devised for Chantenay by Rachel Green, Yorkshire TV's Flying Cook