Asparagus, goat's cheese & caramelised onion tart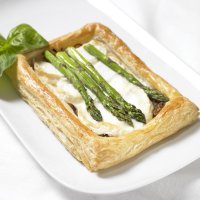 A delicious quick and easy open tart, perfect for a summer lunch or picnic
Preparation: 10 mins
Cooking: 20 mins
Serves: 4
What you need:
500g Jus-Rol™ Frozen All-Butter Puff Pastry Block thawed
250g Asparagus Bundle
2 Individual Goats Cheese (100-120g each) (sometimes called a Crottin)
2 Medium Sized Onions
50g Butter Unsalted
25g Caster Sugar
Olive Oil
Beaten Egg to Glaze
What you do:
Preheat Oven to 220ºC, (200ºC for fan assisted), 425ºF, Gas Mark 7.
Finely slice the onions. Melt the butter in a frying pan and gently sauté onion slices until transparent. Stir in caster sugar, raise the heat and cook until onions are golden brown. Allow them to cool.
Roll out pastry to a rectangle approx 36cm x 28cm. Trim edges then cut out into 4 rectangles (each will be approx 18cm x 14cm). Knock up edges of pastry to help give a good rise.
Place pastry on lined baking sheet and lightly score a border on each rectangle approx 2-3cm in from the pastry edge (ensure you don't slice through pastry).
Divide cooled onion between pastry rectangles and place within the border.
Slice each Goats cheese horizontally into 6 slices giving a total of 12 slices. Then half each slice and scatter over the onions again within the border.
Trim or snap off the hardened ends of the asparagus then lay 3-4 spears along the length of the rectangle.
Lightly brush asparagus with olive oil.
Brush borders of pastry with beaten egg.
Bake for 15-18 minutes until pastry is risen and golden brown.
Eat warm with friends and family!!
This page can be found at: http://secretsauce.co.uk/vegetarian/goats-cheese-recipes/asparagus-goats-cheese-and-caramelised-onion-tart/
A short link can also be used: http://bit.ly/emqVOr
Jus-Rol

Jus-Rol is the UK's pioneering pastry company, committed to providing the highest quality chilled and frozen pastry products. The product range includes ready rolled pastry sheets in both puff and shortcrust pastry, pastry blocks, as well as individual puff pastry rounds, large shortcrust pastry cases and handy pie lids.
More from Jus-Rol

A delicious, fruity dessert - the best in comfort food and just mouth-watering served with a big dollop of creamy custard

This chicken, pesto and spinach tart looks so delicious it seems a shame to cut into it! But once you do, don't expect it to be there for long!

These simple to make Danish pastries have interchangeable fillings so swap between shapes, or make them all!
Popular in goats cheese recipes

Have you ever had savoury panna cotta? This one's a fantastic started and served with sweet and sour tomatoes and cashew biscuits

Sweet, earthy beetroot and tangy goats cheese are a classic combination.

A warm French goat's cheese salad with pear, endive and pomegranate seeds that's bright and colourful. Perfect as a side dish, starter, main course or lunch.