Onion tart tatin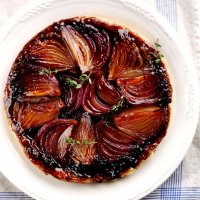 This dish looks impressive but is deceptively easy to make! Serve with a sprinkling of goat's cheese and rocket for a starter or light meal to impress. You could also make this in two separate tart tins for individual portions.
Preparation: 20 mins
Cooking: 35 mins
Serves: 2
What you need:
2 British brown onions
1 British red onion
50g butter
2 tbsp clear honey
2 tbsp balsamic vinegar
A few thyme sprigs
Salt and freshly ground black pepper
250 g ready rolled puff pastry, defrosted if frozen
Little flour for rolling
What you do:
Preheat the oven, 200°C/fan oven 180°C, Gas Mark 6
Cut the onions into wedges from the roots to the stems. Melt the butter in a 20 cm (8 inch) frying pan with a metal handle. Add the onions and fry over a medium heat for about 5 minutes, turning from time to time until just beginning to brown.
Add the honey and vinegar and cook for a further 5 minutes, moving and shaking the pan occasionally so the onions do not stick to the pan. Arrange the onions so they make a pretty pattern, remembering you will be inverting the tart. Add the thyme stems and season well. Leave to cool while you prepare the pastry.
Roll out the pastry on to a lightly floured surface and cut into a circle slightly larger than the diameter of the frying pan. Lift the pastry over the onions and tuck down the sides of the pan or tin. Make 2 small slits for the steam to escape.
Bake for 25-30 minutes until the pastry is well risen. Leave to stand for 5 minutes. Turn the pastry gently to release; you should be able to spin the tart tatin when it is ready to serve. Cover the pan with a plate, invert then remove the pan leaving the tart now on the plate.
Serve warm or cold, with a scattering of rocket and Parmesan shavings.
This page can be found at: http://secretsauce.co.uk/vegetarian/tart-recipes/onion-tart-tatin/
A short link can also be used: http://bit.ly/PTZFXF
British Onions

British Onions is an association of growers, packers and processors who joined together to improve quality standards and ensure year round continuity of high quality British onions to our supermarkets. A great deal of care and attention goes into growing these underrated essential vegetables, which deserve to be celebrated in their own right as the star of the kitchen!
More from British Onions

This is a perfect vegetarian dish packed with flavour. It's a delicious mid-week meal for vegetarians or those looking to eat less meat, or include as part of an Indian banquet.

This is an ideal mid-week meal. It's a great dish to use up leftovers so you could add bacon, peas or cheese.

This is a fresher, lighter version of your usual mayonnaise covered coleslaw that can be made ahead and stored in the fridge. You can also serve this slaw with steak, grilled salmon or a jacket potato
Popular in tart recipes

Sophie says: 'This is a lovely combination, plus it's a really interesting dish to bring out for vegetarian guests too.'

A family meal that takes 15 minutes to prepare, costs 55p per portion and will still leave some for lunch the next day - it's a dream come true!

A lovely vegetarian tart perfect for the family, just serve with a fresh green salad and you'll be well on your way to five a day