Onion & potato curry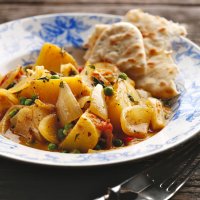 This is a perfect vegetarian dish packed with flavour. It's a delicious mid-week meal for vegetarians or those looking to eat less meat, or include as part of an Indian banquet.
Preparation: 15 mins
Cooking: 25 mins
Serves: 4
What you need:
1 1/2 tsp coriander seeds
1/2 tsp fennel seeds
1/2 tsp mustard seeds
1 tbsp sunflower oil
2 sticks of cinnamon
3 garlic cloves, crushed
5 dried curry leaves
1 green chillies, seeds removed and chopped
2 British brown onions, peeled and roughly sliced
2-3 tbsp coriander, chopped
5 medium-sized new potatoes cut into chunks
10 ripe vine tomatoes
250ml water
150g frozen peas
Approx. 3 tbsp thick, plain yoghurt
What you do:
Place the coriander seeds, fennel seeds and mustard seeds in a dry pan and heat gently until they are lightly roasted and aromatic. Pour into a pestle and mortar and ground.
Pour the oil into a large, heavy-based pan, place over a medium heat and add the crushed spices, cinnamon, garlic, curry leaves and chilli, a pinch of salt and cook for two to three minutes. Add the onion, turn the heat down low and cook for 15 minutes or until the onions are soft and beginning to take on a golden brown colour.
Add the potatoes, tomatoes and water then cover and cook for 20 minutes, or until the potatoes are tender.
Add the peas and cook for a further 15 minutes. Stir in the yoghurt and coriander leaves then season and serve with warmed naan bread.
This page can be found at: http://secretsauce.co.uk/vegetarian/curry-recipes/onion-and-potato-curry/
A short link can also be used: http://bit.ly/O4J9rz
British Onions

British Onions is an association of growers, packers and processors who joined together to improve quality standards and ensure year round continuity of high quality British onions to our supermarkets. A great deal of care and attention goes into growing these underrated essential vegetables, which deserve to be celebrated in their own right as the star of the kitchen!
More from British Onions

This dish looks impressive but is deceptively easy to make! Serve with a sprinkling of goat's cheese and rocket for a starter or light meal to impress.

This is an ideal mid-week meal. It's a great dish to use up leftovers so you could add bacon, peas or cheese.

This is a fresher, lighter version of your usual mayonnaise covered coleslaw that can be made ahead and stored in the fridge. You can also serve this slaw with steak, grilled salmon or a jacket potato
Popular in curry recipes

In the mid 1970s, curry sauce became a popular accompaniment served in fish and chip shops. Why not rediscover its super fruity flavour by making your own at home? It's the perfect partner for warm, comforting chips

Why not start the school year with some new, quick and healthy family recipes, like this one?

A fantastic vegetarian curry that's straightforward to make and full of flavour - just make some pilau rice and serve