Onion & potato tortillas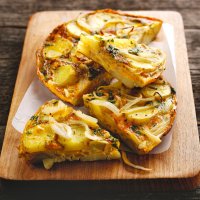 This is an ideal mid-week meal. It's a great dish to use up leftovers so you could add bacon, peas or cheese.
Preparation: 15 mins
Cooking: 25 mins
Serves: 2
What you need:
2 British brown onions cut into 12 wedges
3tbsp olive oil
300g new potatoes, cooked and sliced
5 eggs
2 tbsp parsley
Sea salt and ground black pepper
What you do:
Heat the oil in a 20cm frying pan and add the onions. Cook the onions for 6-7 minutes or until the onions are soft and lightly brown.
Add the potatoes and toss with the onions. Cook for a further 5-7 minutes, shaking the pan occasionally to make sure nothing sticks to the bottom.
Break the eggs into a small bowl and beat lightly with a fork. Add the parsley and season. Gently pour the eggs over the onion and potato mixture, shaking the pan so the egg mixture runs into all the gaps.
Return to a low heat and cook gently for about 20 minutes or until the eggs are jut set.
Place the tortilla under a preheated grill and cook for a few minutes further or until the eggs are completely set and the top is lightly brown.
Serve with a salad or as part of a packed lunch or picnic.
This page can be found at: http://secretsauce.co.uk/vegetarian/potato-recipes/onion-and-potato-tortillas/
A short link can also be used: http://bit.ly/PTZFHk
British Onions

British Onions is an association of growers, packers and processors who joined together to improve quality standards and ensure year round continuity of high quality British onions to our supermarkets. A great deal of care and attention goes into growing these underrated essential vegetables, which deserve to be celebrated in their own right as the star of the kitchen!
More from British Onions

This dish looks impressive but is deceptively easy to make! Serve with a sprinkling of goat's cheese and rocket for a starter or light meal to impress.

This is a perfect vegetarian dish packed with flavour. It's a delicious mid-week meal for vegetarians or those looking to eat less meat, or include as part of an Indian banquet.

This is a fresher, lighter version of your usual mayonnaise covered coleslaw that can be made ahead and stored in the fridge. You can also serve this slaw with steak, grilled salmon or a jacket potato
Popular in potato recipes

Don't just boil those potatoes - make them a dish in itself with this delicious traditional recipe

Warming, filling and very very tasty. Perfect for after an autumnal walk in the park or a trip around the shops!

These potato cakes are delicious on their own, or serve them alongside a light meal to bulk it up and keep guests or your family satisfied!