Winter slaw with grilled lamb chops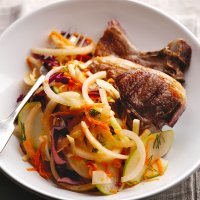 This is a fresher, lighter version of your usual mayonnaise covered coleslaw that can be made ahead and stored in the fridge. You can also serve this slaw with steak, grilled salmon or a jacket potato
Preparation: 25 mins
Cooking: 10 mins
Serves: 4
What you need:
For the winter slaw:
1/2 red cabbage, finely shredded
1/2 white cabbage, finely shredded
4 carrots, peeled and grated
1 British red onion, peeled and thinly sliced
1 green apples, cored and thinly sliced
1 tbsp lemon juice
2 tbsp dill, chopped
Handful lightly toasted pine nuts
For the dressing:
2 tablespoons Dijon mustard
1 tsp caster sugar
3 tablespoons olive oil
2 tablespoons walnut oil
3 tablespoons red wine vinegar
For the lamb chops:
1 tsp cayenne pepper
2-3 tbsp oil
8 lamb chops
Salt and freshly ground black pepper
What you do:
Make the dressing by mixing all the ingredients together in a jar - giving them all a good shake. The dressing can be made ahead.
Place the shredded cabbages, carrots and onion in a large mixing bowl and mix well. Toss the apple in the lemon juice and add to the vegetables along with the dill. Add the pine nuts just before serving.
Add the dressing and mix well, allowing the flavours to infuse together.
For the lamb chops, mix together the cayenne pepper and the oil until well combined. Rub the lamb chops all over with the mixture, then season, to taste, with salt and freshly ground black pepper.
Heat a griddle pan over a medium heat; add the lamb chops and cook for 2-3 minutes on each side, or until golden-brown on both sides and cooked, but still pink in the middle.
Serve the lamb chops with a serving of the winter slaw.
This page can be found at: http://secretsauce.co.uk/meat-poultry/lamb-recipes/winter-slaw-with-grilled-lamb-chops/
A short link can also be used: http://bit.ly/O4JbzI
British Onions

British Onions is an association of growers, packers and processors who joined together to improve quality standards and ensure year round continuity of high quality British onions to our supermarkets. A great deal of care and attention goes into growing these underrated essential vegetables, which deserve to be celebrated in their own right as the star of the kitchen!
More from British Onions

This dish looks impressive but is deceptively easy to make! Serve with a sprinkling of goat's cheese and rocket for a starter or light meal to impress.

This is a perfect vegetarian dish packed with flavour. It's a delicious mid-week meal for vegetarians or those looking to eat less meat, or include as part of an Indian banquet.

This is an ideal mid-week meal. It's a great dish to use up leftovers so you could add bacon, peas or cheese.
Popular in lamb recipes

A taste of the middle east, perfect for a mid-week supper

Juicy lamb shanks with shallots, mint and harissa sauce create a fantastic Tunisian dish - just serve with couscous

You can't beat a baked dish for feeding the family - and this is one of the best, made easy for you with red and white sauces for lasagne.