Slimy snails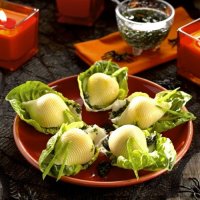 These Halloween snails look deliciously slimy. Who's going to be brave enough to take the first bite?
Preparation: 10 mins
Cooking: 15 mins
Serves: 12
What you need:
For the snails:
12 large conchiglioni rigati pasta shells (cook a few extra in case any split)
2 little gem lettuce
50g mangetout
200g cream cheese or vegan cream cheese*
3 tbsp fresh coriander, chopped
3 tbsp fresh flat leaf parsley, chopped
2 spring onions, finely chopped (including some green)
4 cocktail gherkins, finely chopped
1 clove garlic, crushed
1 lime, zest and juice
1/2 cucumber, sliced
For the slime trail:
5 tbsp extra virgin olive oil
1 tbsp mixed green fresh herbs, chopped
What you do:
Cook the pasta shells for 10-15 minutes. Once the pasta is cooked, but still firm, drain and cool down quickly under cold water. Set the shells aside.
Remove the larger of the little gem leaves and set these aside. Shred the remaining leaves. Make antennae for later by cutting two of the mangetout length ways (you need 24 slithers in total) and finely chop up the rest to go in the filling for the next step.
Combine the cream cheese, coriander, parsley, spring onions, gherkins, chopped mangetout, garlic, lime and 3 tbsp of the shredded little gem leaves.
Assemble the snails by stuffing the filling into the shells and place each one onto a slice of cucumber. Place each snail onto an individual little gem leaf. Add the mangetout antennas to the snails.
Make the snail slime by whisking together the olive oil and herbs with a fork. Drizzle this over the snail and leave to make a slime trail.
Serve on a big platter with any spare shredded lettuce, cucumber or slime in the middle of the plate for presentation. Guests should pick up a piece of lettuce, with a slimy snail on top, to eat!
This page can be found at: http://secretsauce.co.uk/pasta-rice/halloween-recipes/slimy-snails/
A short link can also be used: http://bit.ly/SsDCxO
Skandi Candle
Pure soy wax candles in Flack Fig & Vetiver or Lemon fragrances - perfect for any dinner party or romantic night in.
Vegetarian Society

The Vegetarian Society is a registered charity committed to promoting the health, environmental and welfare benefits of a vegetarian diet.
More from Vegetarian Society

A fantastic ale and mushroom pie recipe perfect to warm you up when it's chilly outside and you want something tasty and filling

Need some get up and go in the morning? This smoothie is just what you need. Ready, steady...

A vegetarian and vegan dish full of flavour with leeks, wild mushroom and ginger all tucked up in flaky pastry