Mediterranean tarts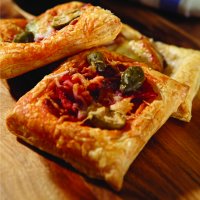 Jo Pratt's recipe is a real star at social gatherings - it looks impressive and yet couldn't be simpler. Simply top pieces of puff pastry with whatever ingredients you fancy before baking. Any topping just about goes, so you can tailor them to your party theme or guests' preferences and, on top of all that, it's great fun trying out your own flavour combinations.
What you need:
375g ready rolled puff pastry
Olive oil, for brushing and drizzling
Topping combination suggestions:
Mozzarella, parma ham and sliced fig
Tenderstem broccoli, cherry tomato and goat's cheese
Crumbled feta, black olive, oregano and cherry tomato
Sliced brie, roast garlic and asparagus
Roasted red pepper, chorizo, manchego and caper berries
What you do:
Pre-heat the oven to 200°C / 220°C fan ovens/gas 6
Unroll the pastry and either leave as a large piece or cut into 8 individual rectangles.
Sit the pastry onto a greased baking sheet and score a border around the edge,
1/2-1cm, with the tip of a sharp knife. Brush with a little olive oil.
Add your chosen toppings, drizzle with olive oil and season with salt and pepper.
Place in the oven and cook for about 15 minutes (or longer for one whole tart) until the pastry around the edges is golden and the toppings are cooked and bubbling.
Cook's tip:
Cava recommendation
I'd recommend drinking Freixenet Cordon Negro with Mediterranean Tarts. It's clean on the palate and goes well with the Mediterranean flavours . Or, you could try Freixenet Cordon Rosado, to create a fabulous Catalan combination.
This page can be found at: http://secretsauce.co.uk/vegetarian/tart-recipes/mediterranean-tarts/
A short link can also be used: http://bit.ly/p52uFJ
Freixenet

Based in Catalonia in Spain, Freixenet is the world's leading producer of sparkling wine. Founded in the 19th century, it remains a family owned business, but with an impressive portfolio of still and sparkling wine interests worldwide. Freixenet is available from leading supermarkets and all good off-licences. Freixenet Cordon Negro, Cordon Rosado and Cordon Oro are price £9.49. Elyssia Pinot Noir and Elyssia Gran Cuvé are available from Waitrose price £17.99. For more information, visit: www.Freixenet.co.uk.
More from Freixenet

Everyone loves a jelly - especially Jo Pratt's very sophisticated adult version with Freixenet Cava.

Jo Pratt's fruity dessert is fun to make and a delight to eat. These individual syllabubs are summer in a glass.

Jo Pratt says: "I love making this salad for an elegant alfresco lunch or dinner with friends and it can be prepared ahead of time."
Popular in tart recipes

Sophie says: 'This is a lovely combination, plus it's a really interesting dish to bring out for vegetarian guests too.'

A family meal that takes 15 minutes to prepare, costs 55p per portion and will still leave some for lunch the next day - it's a dream come true!

A lovely vegetarian tart perfect for the family, just serve with a fresh green salad and you'll be well on your way to five a day