Jo Pratt's elderflower & raspberry jellies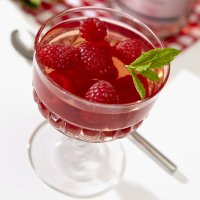 Everyone loves a jelly - especially Jo Pratt's very sophisticated adult version with Freixenet Cava.
What you need:
6 gelatine leaves
600ml Freixenet Cordon Negro or Cordon Rosado
75ml elderflower cordial
1 punnet fresh raspberries
Mint sprigs, to garnish
What you do:
Place the gelatine leaves in a bowl of cold water and leave for 5 minutes, then squeeze out the excess water. Place in a saucepan and add just 200ml of the Freixenet. Gently heat, stirring occasionally until the gelatine dissolves.
Add the remaining Freixenet and the elderflower cordial.
Divide the raspberries between 6 glasses or small bowls (reserving a few to garnish). Pour over enough of the jelly to cover the raspberries and place in the fridge.
Once set, pour over the remaining jelly and return to the fridge for a couple of hours.
Once the jelly has set it can be served garnished with the reserved raspberries and a sprig of mint.
Cook's tip:
This is a very summery dessert, however if you wish to serve this during the colder months, the raspberries can be swapped for blackberries, blueberries or peeled segments of satsuma. The elderflower cordial can be kept or swapped for creme de cassis (particularly nice with the blackberries and blueberries).
Cava recommendation
Freixenet, Elderflower and Raspberry Jellies are fabulous whether made with the fresh and fruity Freixenet Cordon Negro or the pretty, pink Freixenet Cordon Rosado
This page can be found at: http://secretsauce.co.uk/cakes-desserts/jelly-recipes/jo-pratts-elderflower-and-raspberry-jellies/
A short link can also be used: http://bit.ly/q2otqB
Freixenet

Based in Catalonia in Spain, Freixenet is the world's leading producer of sparkling wine. Founded in the 19th century, it remains a family owned business, but with an impressive portfolio of still and sparkling wine interests worldwide. Freixenet is available from leading supermarkets and all good off-licences. Freixenet Cordon Negro, Cordon Rosado and Cordon Oro are price £9.49. Elyssia Pinot Noir and Elyssia Gran Cuvé are available from Waitrose price £17.99. For more information, visit: www.Freixenet.co.uk.
More from Freixenet

Jo Pratt's fruity dessert is fun to make and a delight to eat. These individual syllabubs are summer in a glass.

Jo Pratt's recipe is a real star at social gatherings - it looks impressive and yet couldn't be simpler

Jo Pratt says: "I love making this salad for an elegant alfresco lunch or dinner with friends and it can be prepared ahead of time."
Popular in jelly recipes

Choose a fragrant white wine for this recipe such as a sauvignon blanc, the elderflower scents of these grapes is accentuated by the elderflower cordial.

A fantastic fruity jelly recipe the whole family will enjoy