Fruity syllabub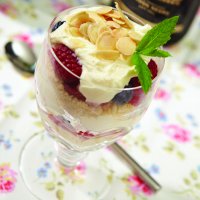 Jo Pratt's fruity dessert is fun to make and a delight to eat. These individual syllabubs are summer in a glass.
What you need:
4 shortbread biscuits, crumbled
150ml Freixenet Cordon Negro
150g mixed summer berries (sliced strawberries, blueberries, raspberries), plus extra for garnish
250g mascarpone cheese
4 tbsp sieved icing sugar
200ml double cream
2 tbsp toasted flaked almonds
4 sprigs of basil or mint, to garnish
What you do:
Place a little of the crumbled shortbread in the base of 4 glasses and moisten with a little of the Freixenet.
Top with a layer of the berries.
Beat together the mascarpone cheese, icing sugar and remaining Freixenet. In a separate bowl, whisk the cream to form soft peaks, then fold into the mascarpone. Spoon half of the cream over the berries, then repeat with a layer of shortbread, berries and cream.
Finish with a scattering of toasted almonds, a few whole berries and sprig of basil or mint to garnish. Serve.
Cook's tip:
When fresh summer berries are out of season, simply substitute frozen ones, or experiment with other fresh fruits such as banana, mango, passion fruit and pineapple.
Cava recommendation:
I'd recommend drinking Freixenet Cordon Rosado or Freixenet Cordon Negro Cava, either of which would be wonderfully refreshing with Freixenet Fruity Syllabub.
This page can be found at: http://secretsauce.co.uk/cakes-desserts/syllabub-recipes/fruity-syllabub/
A short link can also be used: http://bit.ly/pgdhkA
Freixenet

Based in Catalonia in Spain, Freixenet is the world's leading producer of sparkling wine. Founded in the 19th century, it remains a family owned business, but with an impressive portfolio of still and sparkling wine interests worldwide. Freixenet is available from leading supermarkets and all good off-licences. Freixenet Cordon Negro, Cordon Rosado and Cordon Oro are price £9.49. Elyssia Pinot Noir and Elyssia Gran Cuvé are available from Waitrose price £17.99. For more information, visit: www.Freixenet.co.uk.
More from Freixenet

Everyone loves a jelly - especially Jo Pratt's very sophisticated adult version with Freixenet Cava.

Jo Pratt's recipe is a real star at social gatherings - it looks impressive and yet couldn't be simpler

Jo Pratt says: "I love making this salad for an elegant alfresco lunch or dinner with friends and it can be prepared ahead of time."