Chantenay, thyme, goat's cheese & crème fraiche tart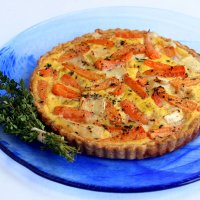 This lovely summer carrot and goat's cheese tart recipe was devised for Chantenay by Rachel Green, Yorkshire TV's Flying Cook
Serves: 4
What you need:
400g Chantenay carrots
1 lemon (grate half and juice whole lemon)
1 tbsp olive oil
3 sprigs thyme
2 eggs whole
1 egg yolk
200ml tub crème fraiche
180g goat's cheese cut into slices
Pastry for 9" flan tin:
140g plain flour
70g chilled butter, cut into dice
50g grated mature cheddar
water to bind
pinch of salt
What you do:
Preheat the oven to 200˚C/400˚F/Gas Mark 5.
To make the pastry put the flour, salt and chilled butter into a food processor and whiz for a few seconds until the mixture resembles fine breadcrumbs. Alternatively, sift the flour and salt into a medium bowl, add the butter and rub lightly together with fingertips until the mixture resembles fine breadcrumbs.
Then stir in the cheese and add 2-2 ½ tablespoons of cold water gradually mixing with a fork until the pastry just holds together. Wrap the pastry in Clingfilm and refrigerate for 30 minutes. Roll out the pastry into a circle bigger than the flan tin, line the flan tin, pressing it well into the case. Trim the edges and prick the base with a fork. Refrigerate for another 30 minutes, then bake the tart case blind for 15 minutes. Remove the baking beans and cook for a further 10 minutes to cook the base.
Meanwhile place the carrots on a baking sheet. Season well and drizzle with the olive oil and lemon juice. Roast in the oven alongside the tart case for 15-20 minutes.
This page can be found at: http://secretsauce.co.uk/vegetarian/tart-recipes/chantenay-goats-cheese-creme-fraiche-tart/
A short link can also be used: http://bit.ly/hubKHM
Chantenay carrots

Chantenay is a small sweet variety of carrot with crisp, orange flesh and a tender texture. Five Chantenay carrots count as one portion towards the recommended five portions of fruit and veg we should eat each day.
More from Chantenay carrots

A fantastic winter warmer with sweet Chantenay carrots, tender chunks of steak in a rich gravy with filling dumplings.

Leg or shoulder of lamb with sweet carrots and spring vegetables is a great Sunday dish, just make sure you've got a big helping of redcurrant jelly handy

If you love olives, you'll love this recipe and the good news is this rice salad's really good for you too!
Popular in tart recipes

Sophie says: 'This is a lovely combination, plus it's a really interesting dish to bring out for vegetarian guests too.'

A family meal that takes 15 minutes to prepare, costs 55p per portion and will still leave some for lunch the next day - it's a dream come true!

A lovely vegetarian tart perfect for the family, just serve with a fresh green salad and you'll be well on your way to five a day