Navarin of lamb with chantenay carrots & spring vegetables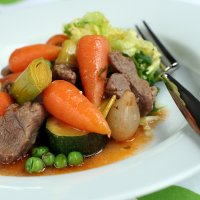 Leg or shoulder of lamb with sweet carrots and spring vegetables is a great Sunday dish, just make sure you've got a big helping of reducurrant jelly handy
Serves: 4-6
What you need:
1 kg diced leg or shoulder of lamb
450g Chantenay carrots
250g potatoes peeled and cut into chunks
60g frozen peas
1 courgette cut into chunks
1 leek, washed and cut into rounds
8 shallots, peeled
1 sprig of thyme
1 bay leaf
1 small sprig rosemary
500ml lamb or chicken stock
250ml white wine
2 tbsp vegetable or olive oil
1 tbsp redcurrant jelly
1 tbsp tomato puree
Sea salt and black pepper
Knob of butter
2 tsp of cornflour to thicken in 80ml water
What you do:
Preheat the oven to 160˚C/300˚F/Gas Mark 3-4.
Heat the vegetable oil in an ovenproof dish or casserole suitable to fry the lamb in. Season the diced lamb with salt and pepper and seal the meat in batches, then keep warm.
Drain the oil, and add the butter. Then add the shallots, potatoes and carrots, and fry gently for 2-3 minutes, making sure the butter does not burn and the vegetables just start to colour. Add the tomato puree and garlic and fry with the vegetables for a further minute, then add the lamb, white wine and herbs, reduce for 3 minutes. Add the stock and redcurrant jelly, bring to the boil and then cover and place in the oven for 1 ¾ hours, stirring occasionally.
This page can be found at: http://secretsauce.co.uk/meat-poultry/lamb-recipes/lamb-chantenay-carrots-spring-vegetables/
A short link can also be used: http://bit.ly/esjq0J
Chantenay carrots

Chantenay is a small sweet variety of carrot with crisp, orange flesh and a tender texture. Five Chantenay carrots count as one portion towards the recommended five portions of fruit and veg we should eat each day.
More from Chantenay carrots

A fantastic winter warmer with sweet Chantenay carrots, tender chunks of steak in a rich gravy with filling dumplings.

If you love olives, you'll love this recipe and the good news is this rice salad's really good for you too!

This lovely summer carrot and goat's cheese tart recipe was devised for Chantenay by Rachel Green, Yorkshire TV's Flying Cook
Popular in lamb recipes

A taste of the middle east, perfect for a mid-week supper

You can't beat a baked dish for feeding the family - and this is one of the best, made easy for you with red and white sauces for lasagne.

Juicy lamb shanks with shallots, mint and harissa sauce create a fantastic Tunisian dish - just serve with couscous