Beef & chantenay casserole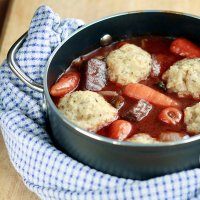 A fantastic winter warmer with sweet Chantenay carrots, tender chunks of steak in a rich gravy with filling dumplings.
Serves: 4
What you need:
For the casserole you'll need:
1 kg chuck / braising steak, cut into large cube
Seasoned flour
2 tbsp Hill Farm cold pressed rapeseed oil
400g Chantenay carrots
1 leek, trimmed and thickly sliced
500g shallots, peeled and left whole
1 tbsp tomato puree
1 tbsp Bart Spices thyme leaves and 1 bay leaf
200ml red wine
500ml beef stock
2 tbsp parsley, finely chopped
For the dumplings you'll need:
110g self raising flour
55g suet
1 tsp Bart Spices thyme leaves
55g mature Cheddar cheese, grated
4 - 6 tbsp cold water to mix
What to do:
Preheat the oven to 170°C/325°F/Gas Mark 3.
Toss the beef in the seasoned flour. Heat 1 tbsp of the oil in a large casserole dish and brown the beef in batches until well browned on all sides. Set aside, return the pan to the heat and add the remaining oil. Add the Chantenay, leek and shallots and cook for 10 minutes, until the vegetables are starting to brown. Add the tomato puree and dried thyme and cook for a further minute. Blend in the red wine and stock and add the bay leaf. Return the meat to the pan, season well and bring to a simmer. Cover and place in the preheated oven for 1½ - 2 hours.
For the dumplings, sieve the flour into a mixing bowl. Stir in the suet, thyme and cheese and season with sea salt and black pepper. Sprinkle over 4 tbsp cold water, adding more if necessary, to bring the mixture together to make a soft but not sticky dough. Shape into small dumplings and place on top of the casserole. Cover and return to the oven for 15 minutes, then remove the lid and cook for a further 10 minutes to allow the dumplings to take on some colour.
Garnish with the chopped parsley and serve immediately.
This page can be found at: http://secretsauce.co.uk/meat-poultry/beef-recipes/beef-chantenay-casserole-carrot/
A short link can also be used: http://bit.ly/hc0XZp
Chantenay carrots

Chantenay is a small sweet variety of carrot with crisp, orange flesh and a tender texture. Five Chantenay carrots count as one portion towards the recommended five portions of fruit and veg we should eat each day.
More from Chantenay carrots

Leg or shoulder of lamb with sweet carrots and spring vegetables is a great Sunday dish, just make sure you've got a big helping of redcurrant jelly handy

If you love olives, you'll love this recipe and the good news is this rice salad's really good for you too!

This lovely summer carrot and goat's cheese tart recipe was devised for Chantenay by Rachel Green, Yorkshire TV's Flying Cook
Popular in beef recipes

Beef stew is the best winter warmer, slow cooked for two hours to make sure the beef is tender and has absorbed all the delicious flavours

This easy-to-make tasty meal is really healthy - helping you towards your 5-a-day. Make it with beef mince, or choose Quorn mince if you're vegetarian.

Tender beef with the spice of chilli and the sweetness from sweet potato creates an exciting stew-type dish bursting with flavour.