Roasted chantenay carrot, coriander, olive & rice salad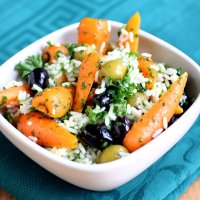 If you love olives, you'll love this recipe and the good news is this rice salad's really good for you too!
Serves: 6-8
What you need:
500g Chantenay carrots, cut in half lengthways
2 lemons
1 handful coriander, roughly chopped
200g cooked long grain rice, drained and cooled
50g stoned black olives
50g stoned green olives
4 tsp olive oil
Sea salt and black pepper
What you do:
Pre-heat the oven to 180˚c 350˚f gas mark 4. Place the carrots in a roasting tin and toss through 2 tablespoons of olive oil. Season well with salt and pepper, and squeeze the juice of one lemon over the carrots.
Roast in the oven for about 10-15 minutes, until slightly coloured.
Remove from the oven, allow to cool. Place in a mixing bowl, including the juices from the cooking, add the rice, coriander, olives, the remaining two tablespoons of olive oil and the juice of the other lemon. Season with black pepper and sea salt.
This page can be found at: http://secretsauce.co.uk/vegetarian/rice-recipes/roasted-chantenay-carrot-rice-salad/
A short link can also be used: http://bit.ly/gxbdGt
Chantenay carrots

Chantenay is a small sweet variety of carrot with crisp, orange flesh and a tender texture. Five Chantenay carrots count as one portion towards the recommended five portions of fruit and veg we should eat each day.
More from Chantenay carrots

A fantastic winter warmer with sweet Chantenay carrots, tender chunks of steak in a rich gravy with filling dumplings.

Leg or shoulder of lamb with sweet carrots and spring vegetables is a great Sunday dish, just make sure you've got a big helping of redcurrant jelly handy

This lovely summer carrot and goat's cheese tart recipe was devised for Chantenay by Rachel Green, Yorkshire TV's Flying Cook
Popular in rice recipes

Rice is more than just a winter warmer. Mediterranean rice makes a perfect, easy to prepare lunch or light and simple supper and any leftovers can go in the next day's lunch box