Curried leek & sweet potato soup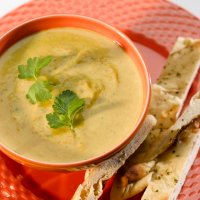 Delicious spiced, warming, thick soup for supping on chilly days. Great served with fingers of grilled nan bread.
Serves: 4
Prep: 15 minutes
Cook: 45 mins
What you need:
1kg Leeks, finely chopped in a food processor
1kg Sweet potato, peeled and finely chopped in a food processor
50g Butter
1 tbsp Light and mild olive oil
2 tsp Ground turmeric
1 tsp each of ground clove, coriander, cumin, mild chilli and cardamom
Generous sprinkling of ground sea salt and black pepper
1.5 pints Vegetable stock
300ml Single cream
50g Fresh coriander leaf, finely chopped, leaving a few whole leaves for garnish
What you do:
Gently sweat the shredded leek in the butter and olive oil for 5 minutes to soften. Stir in the spices and cook for a further 3 minutes. Add the sweet potato, seasoning and stock. Bring to a gentle simmer. Cover and simmer for 30 minutes.
Whiz in batches in a food processor with the single cream and coriander until smooth. Top with the coriander leaf and serve with fingers of warm nan bread.
This page can be found at: http://secretsauce.co.uk/vegetarian/sweet-potato-recipes/curried-leek-sweet-potato-soup/
A short link can also be used: http://bit.ly/fXmA2Y
British Leeks

With rising food prices making us all more supermarket savvy, choose British leeks for flavour on your table and change at the checkout.
More from British Leeks

Just because it's cheap (£4.50 for four) doesn't mean it's lacking in flavour! And it's great for mid-week as it takes just 30 minutes cooker to table

This delicious sausage and mash is made a little bit special with chives in the mash and leeks in the casserole

Traditional ingredients served in a simple but colourful way. Haddock fillets rolled around a creamy filling combining leeks, spinach and tangy goats' cheese; the lemony flavour of which compliments the haddock to perfection.
Popular in sweet potato recipes

The infused beetroot in this dish makes for a lively and flavour-packed lunch. The sweet potato will keep you going right through the afternoon.

A traditional Chanukah treat, delicious when served with creme fraiche

These filo rolls are lovely with a sweet chilli dipping sauce, or put some in the fridge for lunch the next day