Chicken, leek, prune & caerphilly pie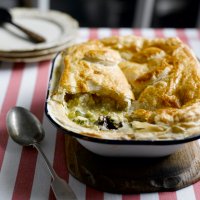 If your food shopping budget's a little tight, but you don't want to compromise on flavour, this chicken, leek, prune and caerphilly pie costs just £5.45 for four!
Serves: 4
Prep: 25 minutes
Cook: 40 minutes
Cost: £5.80 (for four)
What you need:
1 tbsp olive oil
1 tbsp butter
1 Spanish onion chopped
3 cloves of garlic sliced
4 boned chicken thighs cubed
200g leeks sliced, white parts only
2tbls flour
150ml dry white wine
1pint chicken stock
200ml double cream
2 tsp English mustard
Salt and black pepper to taste
100g prunes halved
150g Caerphilly cheese crumbled
50g mixed chopped tarragon and flat leaf parsley
500g ready rolled puff pastry
1 egg yolk
1 tablespoon of double cream
What you do:
Preheat oven to 180ºC / 350ºF
In a medium sized saucepan melt the butter and oil then fry the onions and garlic until they start to colour, about 10 minutes
Then add the chicken and cook for a further 5 minutes until the chicken is sealed
Add the leeks and flour stirring continually until they are well combined
Add the wine and chicken stock slowly until the sauce has thickened
Add the cream and mustard and then season
Take off the heat and stir in the prunes, cheese and herbs
Place the pie filling into a medium sized pie dish
Mix the egg yolk and cream together and then brush around the pie dish. Cover with pastry and cut around the sides with a knife
Brush the remaining egg mix over the pie
Poke a couple of small holes in the pastry to let out the steam
Cook in the oven for 25 minutes, remove from the oven and serve
This page can be found at: http://secretsauce.co.uk/meat-poultry/chicken-recipes/chicken-leek-prune-caerphilly-pie/
A short link can also be used: http://bit.ly/dNKqqV
British Leeks

With rising food prices making us all more supermarket savvy, choose British leeks for flavour on your table and change at the checkout.
More from British Leeks

Delicious spiced, warming, thick soup for supping on chilly days. Great served with fingers of grilled nan bread.

Just because it's cheap (£4.50 for four) doesn't mean it's lacking in flavour! And it's great for mid-week as it takes just 30 minutes cooker to table

This delicious sausage and mash is made a little bit special with chives in the mash and leeks in the casserole
Popular in chicken recipes

For a quick and easy evening meal, chicken, leek and Cheddar bake, with melt in the mouth cheese, will be a firm family favourite that takes just 10 minutes to prepare

While you're getting this together, why not double up on the ingredients and freeze a lovely chicken and leek pie for another time?

Easy to prepare, these chicken dippers are perfect handed round at parties!