Tenderstem broccoli & sweet potato filo rolls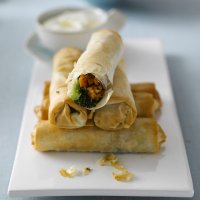 These filo rolls are lovely with a sweet chilli dipping sauce, or put some in the fridge for lunch the next day
Makes: 8
Prep Time: 15 minutes
Cooking Time: 25 minutes
What you need:
200g Tenderstem® broccoli stems cut in half depending on size to give 16 pieces
3 tbsp olive oil
125g sweet potato, peeled and very finely diced
2 small shallots, finely diced
20g blanched almonds, finely chopped
¼ tsp ground cinnamon
½ tsp ground cumin
12g currants
½ small lemon, grated zest and juice
Sea salt and black pepper
1 packet filo pastry
To serve:
125ml Bio Natural Yoghurt
What you do:
Preheat oven to Gas 6/200C/400F
Parboil the Tenderstem for 4 minutes, drain and set aside.
Heat 1 tbsp of oil in a large frying pan and sauté the sweet potato for 5 minutes until almost tender. Add the shallots and almonds and cook for a further 5 minutes until both vegetables are soft.
Stir in the spices and cook for 2 minutes before adding the currants, lemon zest and juice and seasoning.
Cut the pastry into squares approx 15 x 15cms. Brush one sheet with oil and place a second sheet on top. Dot a good tablespoon of the sweet potato mixture in a horizontal line 2 cms from the top and place two Tenderstem stems on top, top to tail, overlapping if necessary. Roll over and turn the edges in, brushing with oil and roll into a cigar.
Brush the top with oil. Repeat until you have 8 rolls. Bake for 12-15 minutes until crisp.
This page can be found at: http://secretsauce.co.uk/vegetarian/sweet-potato-recipes/tenderstem-broccoli-sweet-potato-filo-rolls/
A short link can also be used: http://bit.ly/fJZyUJ
Tenderstem
Tenderstem is a vegetable that's sweet, packed with good things and cooks in moments. And, because it's delicious from stem to tip, nothing needs to be discarded.
More from Tenderstem

Enjoy this delicious spaghetti dish created by Italian chef and owner of Zilli restaurants, Aldo Zilli

Halloumi's salty flavour is the perfect match for sweet cherry tomatoes and smooth Tenderstem broccoli

Lesley says: 'Tenderstem® Broccoli is perfect for stir-frying, it's rich in iron, vitamin C and folic acid. Roasting the duck on a rack with salt will ensure the skin goes really crispy.'
Popular in sweet potato recipes

The infused beetroot in this dish makes for a lively and flavour-packed lunch. The sweet potato will keep you going right through the afternoon.

Delicious spiced, warming, thick soup for supping on chilly days. Great served with fingers of grilled nan bread.

A traditional Chanukah treat, delicious when served with creme fraiche