Sausage & leek casserole with chive mash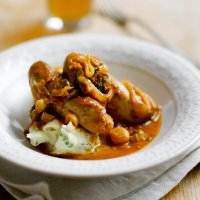 This delicious sausage and mash is made a little bit special with chives in the mash and leeks in the casserole
Serves: 4
Prep: 10 minutes
Cook: 30 minutes
Cost: £6 (for four)
What you need:
3 tbsp olive oil
8 pork sausages
1 Spanish onion sliced
200g sliced leeks
4 cloves garlic sliced
2 sticks celery sliced
Small bunch of sage leaves, picked
200ml white wine
400ml passata
400ml chicken
2 bay leaves
Salt and cracked black pepper
Small bunch flat leaf parsley, chopped
For the mash:
800g potatoes peeled and cut into 4
100g butter
300ml full fat milk
Salt and cracked white pepper
1 bunch of chives finely chopped
What to do:

Preheat oven to 180ºC / 350ºF
Fry the sausages in a casserole dish until golden brown, remove with a slotted spoon. You may need to do this in two batches
Add the onions, leeks, garlic, celery and sage and cook until the mix starts to brown slightly
Add the wine, stock, passata and bay leaves and then season with salt and pepper
Add the sausages back in
Put the lid on and cook in the oven for 20 minutes
Meanwhile, place your potatoes in a medium sized pan, cover with water and bring to the boil. Simmer gently until cooked. About 20 minutes
Once cooked, drain and mash the potatoes and add the butter and milk. Stir over a low heat until the butter has melted and the mash is piping hot. Season and add the chives. Set aside
Remove the casserole from oven, stir in chopped parsley and serve with the mash
This page can be found at: http://secretsauce.co.uk/meat-poultry/sausage-recipes/sausage-leek-casserole-with-chive-mash/
A short link can also be used: http://bit.ly/ihHfOu
British Leeks

With rising food prices making us all more supermarket savvy, choose British leeks for flavour on your table and change at the checkout.
More from British Leeks

Delicious spiced, warming, thick soup for supping on chilly days. Great served with fingers of grilled nan bread.

Just because it's cheap (£4.50 for four) doesn't mean it's lacking in flavour! And it's great for mid-week as it takes just 30 minutes cooker to table

Traditional ingredients served in a simple but colourful way. Haddock fillets rolled around a creamy filling combining leeks, spinach and tangy goats' cheese; the lemony flavour of which compliments the haddock to perfection.
Popular in sausage recipes

This is a classic British dish that's like a giant sausage roll. Serve with greens and mustard for a traditional dinner for two

This is the best breakfast, especially if you've over-indulged a little the night before, but don't save it until then, it's great for dinner too!

Cocktail sausages cooked in honey are popular finger food, but wait until you've tried these sweet chilli versions