Spaghetti with leeks, peas, bacon & lemon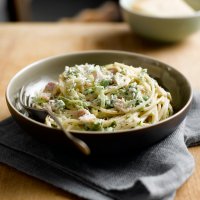 Just because it's cheap (£4.50 for four) doesn't mean it's lacking in flavour! And it's great for mid-week as it takes just 30 minutes cooker to table
Serves: 4
Prep: 15 minutes
Cook: 15 minutes
Cost: £4.50 (for four)
What you need:
400g dried spaghetti
40g butter
150g bacon lardons
200g leeks finely chopped
400ml crème fraise
100g cooked peas
Juice and zest of one lemon
Salt and cracked black pepper
Small bunch of chopped flat leaf parsley
50g Parmesan for grating
What you do:

Bring a medium pan of salted water to the boil, add the spaghetti and cook accordingly to the packet instructions
In the meantime, fry the bacon in a medium sized pan over a low heat until the fat releases from the bacon. Turn up the heat so that the bacon starts to colour, about 5 minutes. Then add the leeks and cook for a further 5 minutes
Add the crème fraise and cook until it starts to bubble and reduce slightly
By now your pasta should be cooked. Drain and set aside
Add the lemon juice and zest to your sauce
Season with salt and pepper and add the chopped parsley
Toss the pasta in the sauce, serve in bowls and sprinkle with Parmesan
This page can be found at: http://secretsauce.co.uk/pasta-rice/spaghetti-recipes/spaghetti-with-leeks-peas-bacon-lemon/
A short link can also be used: http://bit.ly/hVl6TO
British Leeks

With rising food prices making us all more supermarket savvy, choose British leeks for flavour on your table and change at the checkout.
More from British Leeks

Delicious spiced, warming, thick soup for supping on chilly days. Great served with fingers of grilled nan bread.

This delicious sausage and mash is made a little bit special with chives in the mash and leeks in the casserole

Traditional ingredients served in a simple but colourful way. Haddock fillets rolled around a creamy filling combining leeks, spinach and tangy goats' cheese; the lemony flavour of which compliments the haddock to perfection.
Popular in spaghetti recipes

A quick and easy family favourite, with great flavour.

This delicious spaghetti dish is ready in under 15 minutes and you could serve it cold for a packed lunch the next day!

Italian dishes don't come finer than a traditional spaghetti Bolognese and this one is sure not to disappoint