Sweet potato latkas with ginger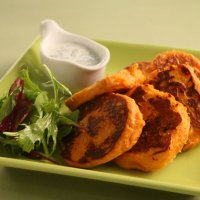 A traditional Chanukah treat, delicious when served with creme fraiche.
Preparation: 5 mins
Cooking: 20 mins
Serves: 12
What you need:
1 kg Sweet Potatoes (peeled & diced)
1 Cup White Flour
1 Egg
5 Dorot Crushed Ginger Cubes (available in Sainsbury's)
Salt & Black Pepper
2 Tbsp Butter
1 Cup Crème Fraiche
¼ Cup Chives (finely chopped)
Salt & Pepper
What you do:
Cook the sweet potato on a medium heat for approximately 10 minutes until softened and then drain.
Mash the sweet potato until a puree is formed, then add the egg, Dorot crushed ginger cubes, flour and salt & pepper and mix thoroughly until combined.
Place the mixture in the refrigerator for ½ hour.
Remove the mixture from the refrigerator and form into pancakes.
Heat the butter in a large frying pan and fry each Latka for approximately 3 minutes each side and then remove from the pan.
In a small bowl, mix the crème fraiche with the chives and then season with salt & pepper.
Spoon the crème fraiche mixture onto a plate and place the Latkas on top and serve.
This page can be found at: http://secretsauce.co.uk/vegetarian/sweet-potato-recipes/sweet-potato-latkas-with-ginger/
A short link can also be used: http://bit.ly/flnqe8
Popular in sweet potato recipes

The infused beetroot in this dish makes for a lively and flavour-packed lunch. The sweet potato will keep you going right through the afternoon.

Delicious spiced, warming, thick soup for supping on chilly days. Great served with fingers of grilled nan bread.

These filo rolls are lovely with a sweet chilli dipping sauce, or put some in the fridge for lunch the next day