Baked sweet potato with juniper & black pepper beetroot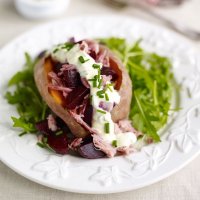 The infused beetroot in this dish makes for a lively and flavour-packed lunch. The sweet potato will keep you going right through the afternoon.
Preparation: 10 mins
Cooking: 45 mins
Serves: 4
What you need:
4 large sweet potatoes
2 x 150g juniper & black pepper beetroot, cut into wedges
180g shredded ham hock
For the dressing:
170ml tub sour cream
Small bunch of chives, snipped
1-2 tsp english mustard, to taste
Salt & freshly ground black pepper
What you do:
Preheat the oven to 200/180/gas 6. Scrub the potatoes well and prick a couple of times with a fork. Arrange on a baking tray and bake for about 40 minutes until soft all the way through when pierced with a sharp knife.
Whilst the potatoes are cooking, make the dressing by mixing together the sour cream and chives in a small bowl. Season to taste with mustard, salt and freshly ground black pepper.
When the potatoes are cooked, cut down the middle and open up a little. Divide the beetroot between the potatoes and scatter over the ham. Finally, drizzle over the dressing before serving immediately.
Cook's tip:
Juniper & black pepper beetroot can be purchased from Morrisons and Sainsbury's, or choose a different flavour from the infused beetroot ready-to-eat range, which includes Spicy Sweet and Fiery Beetroot (Tesco Finest), Sweet Chilli Rosebud Beetroot (M&S), Red Wine Vinegar & Orange Blossom Honey Beetroot (M&S), Sweetfire Beetroot Wedges (Waitrose), Juniper & Black Pepper in Red Wine Vinegar Baby Beetroot (Morrisons), Lime Zest Baby Beetroot (Waitrose) , Juniperberry & Black Pepper Cocktail, Beetroot (Sainsbury's Taste the Difference), Sweetflame Beetroot (Sainsbury's Taste the Difference), Honey & Ginger Baby Beetroot (Asda).
This page can be found at: http://secretsauce.co.uk/vegetarian/sweet-potato-recipes/baked-sweet-potato-with-beetroot/
A short link can also be used: http://bit.ly/1mAhb6T
lovebeetroot

Beetroot is enjoying something of a revival as people discover there's more to this great British vegetable than they thought. You can now buy beetroot in so many different ways – raw, cooked, marinated, lightly pickled - there's so much to beetroot than the jar of pickled beetroot many of us will remember from our childhood.
More from lovebeetroot

A delicious, healthy smoothie with a ginger kick

The aromatic taste of juniperberry & black pepper-infused beetroot is wonderful tossed through this salad which makes for a substantial lunch or light supper.

Wow, do these boys know how to make a tart! An unusual and tasty recipe from baking experts Tom and Henry Herbert
Popular in sweet potato recipes

Delicious spiced, warming, thick soup for supping on chilly days. Great served with fingers of grilled nan bread.

A traditional Chanukah treat, delicious when served with creme fraiche

These filo rolls are lovely with a sweet chilli dipping sauce, or put some in the fridge for lunch the next day