Spiced carrot, Bramley apple & lentil soup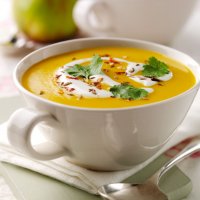 A warming Bramley Apple soup, served with a big dollop of yoghurt
Preparation: 10 mins
Cooking: 25 mins
Serves: 6
What you need:
1/2 tsp chilli flakes
2 tsp cumin seeds
2 tbsp olive oil
450g carrots, peeled and cut into small pieces
2 Bramley apples (approx 450g), peeled, cored and roughly chopped
1 celery stick, finely sliced
125g split red lentils
750ml hot vegetable stock
250ml coconut cream
To serve:
4 tbsp plain yoghurt
Small handful of coriander leaves
Warm naan bread, to serve
What you do:
Heat a large saucepan and then add the chilli flakes and cumin seeds. Dry fry for a minute or so until they release their aroma and pop around in the pan. Remove half of the seeds and set aside.
Add the oil to the pan, and once it is hot, stir in the carrots, apple and celery. Fry for about 5 minutes, and then add the lentils, stock and coconut milk. Bring to a simmer and cook for about 15 minutes, covered with a lid, until the carrots and lentils are tender.
Blitz the soup until smooth, and season with salt and pepper. To serve, spoon into bowls, add a spoon of yoghurt on top, scatter with the reserved spices, and add a few coriander leaves. Serve with warm naan bread.
Cook's tip:
This soup keeps really well, so any you don't eat straight away, store in the fridge for up to 3 days, or freeze in individual portions for up to 3 months.
This page can be found at: http://secretsauce.co.uk/vegetarian/soup-recipes/spiced-carrot-bramley-apple-and-lentil-soup/
A short link can also be used: http://bit.ly/Vb6tbY
Bramley Apples

The Bramley is rightly recognised by professional chefs and home cooks alike as the best apple for cooking. Grown only in Britain, the Bramley's unique qualities make it one of the most versatile ingredients, equally at home in a savoury stir fry as a traditional apple pie.
More from Bramley Apples

Cheap ingredients, quick to make, but packed full of flavour and perfect with a lovely cup of tea!

These are tasty snacks, which may be served warm or cold

The blend of hot spices, sour flavours and lentils make a dhansak a popular curry. Try serving it with basmati rice and a cooling raita.
Popular in soup recipes

Spice up a simple tomato soup recipe with chilli and paprika, then serve with a dollop of sour cream and chive dip and warm crusty bread

This is such a great soup if you've just battled through wind and rain to get home. Serve with muffins or crusty bread

Healthy and full of vitamins, this soup is also a great winter warmer and it's made with soya, so it's vegan too!