Spicy tomato & lentil soup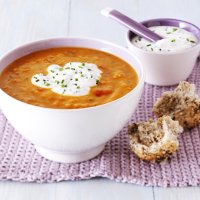 Spice up a simple tomato soup recipe with chilli and paprika, then serve with a dollop of sour cream and chive dip and warm crusty bread
Prep: 5 mins
Cook: 30-40mins
Serves: 4-6
Per serving:
Energy (kcal): 454
Fat (g): 25.9
of which saturates (g): 12.4
Total sugars (g): 12.4
Salt (g): 1.24
This recipes proves almost the full GDA of Vitamin C
What you need:
2 tbsp olive oil
1 onion, chopped
1 red pepper, chopped
1 clove garlic, crushed
15ml/1tbsp ground paprika
5ml/1tsp crushed chilli flakes
175g/6oz red lentils
1 (800g) can chopped tomatoes
1.15lt/2pts vegetable or chicken stock
30ml/2tbsp chopped fresh coriander
salt and freshly ground black pepper
1 (200g) pot of fresh sour cream and chive dip
crusty bread to serve
What you do:
Heat the oil in a large saucepan, add the onion and pepper and cook over a gentle heat for 6-8mins or until pale golden. Add the garlic, paprika and chilli and stir for 30 seconds.
Stir in the lentils, tomatoes and stock. Bring to the boil, cover and simmer for 30 mins or until the lentils are really tender and beginning to break up.
Stir in the coriander and adjust the seasoning to taste.
Blend the soup in a food processor or with a hand held blender until just smooth. Serve ladled into bowls topped with a dollop of sour cream and chive dip.
This page can be found at: http://secretsauce.co.uk/vegetarian/soup-recipes/tomato-lentil-soup/
A short link can also be used: http://bit.ly/dHQ4Hl
Skandi Candle
Pure soy wax candles in Flack Fig & Vetiver or Lemon fragrances - perfect for any dinner party or romantic night in.
Fresh dips
Bakkavor Foods is a leading producer of supermarket own-label dips.
More from Fresh dips

It's always a struggle getting your five a day but this recipe counts as 2 portions per serving. Don't forget the houmous and mint dip as a delicious side dish

Former Olympic swimming champ and mother of three, Sharron Davies, has devised some delicious cost-cutting family recipes with any leftover pots of fresh dips.

This is a cheats' recipe for a classic Spanish tapas dish. Potatoes topped with spicy tomato and chilli sauce, the name literally means fierce potatoes
Popular in soup recipes

This is such a great soup if you've just battled through wind and rain to get home. Serve with muffins or crusty bread

Healthy and full of vitamins, this soup is also a great winter warmer and it's made with soya, so it's vegan too!

Containing two of your five a day, this easy soup is good for you and will warm you up from the inside out!