Sweet potato & curly kale soup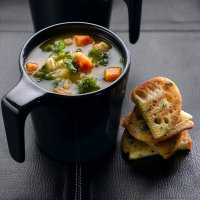 This is such a great soup if you've just battled through wind and rain to get home. Serve with muffins or crusty bread
Serves: 4
What you need:
1 medium onion
2tbsp olive oil
2 cloves garlic
½ leek
2tbsp freshly grated ginger
1/4tsp chilli flakes
150g curly kale chopped
2 sweet potatoes diced
100g pearl barley
1 pint of vegetable stock
1tbsp parsley
Salt and pepper to taste
What you do:
Put the onion, leek and garlic into a food processor and whizz until finely chopped, transfer to a medium sized saucepan with the olive oil and gently cook for 5 minutes so the vegetables are soft but not browned.
Next add the ginger, chilli, sweet potato and stock, bring to a steady simmer for 10 minutes. Add the barley to the pan and cook for a further 15 minutes stirring every so often. Finally in goes in the kale and parsley continue cooking for 3-4 minutes, season to taste and serve.
This page can be found at: http://secretsauce.co.uk/vegetarian/soup-recipes/sweet-potato-curly-kale-soup/
A short link can also be used: http://bit.ly/f2mGDE
Skandi Candle
Pure soy wax candles in Flack Fig & Vetiver or Lemon fragrances - perfect for any dinner party or romantic night in.
Booths

Booths is an award-winning company with 26 stores across the north of England, all offering the same warm service, yet each with its own distinct personality, and is nationally recognised for its support of local farmers and producers.
More from Booths

These stuffed mushrooms are a great dish to serve a hungry vegetarian and they'll thank you for it!
Popular in soup recipes

Spice up a simple tomato soup recipe with chilli and paprika, then serve with a dollop of sour cream and chive dip and warm crusty bread

Healthy and full of vitamins, this soup is also a great winter warmer and it's made with soya, so it's vegan too!

Containing two of your five a day, this easy soup is good for you and will warm you up from the inside out!