Leek & mushroom en croute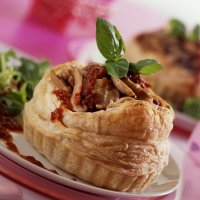 A vegetarian and vegan dish full of flavour with leeks, wild mushroom and ginger all tucked up in flaky pastry

Serves: 2
Vegan
What you need:
225g/8oz ready-made puff pastry
15ml/1 tablespoon olive oil
1 medium leek, trimmed, washed and finely shredded
50g/2oz wild mushrooms, finely chopped
10ml/2 teaspoons shoyu
1cm/1/2" piece fresh ginger root, peeled and grated
salt and freshly ground black pepper to taste
1 dessert spoon plain flour
75ml/3 fl oz soya cream
15g/1/2 oz pine nuts, toasted
To serve:
Griddled baby vegetables
60ml/4tbsp sweet and sour sauce mixed with an equal amount of water.
What you do:
Preheat the oven to 225C/450F/Gas 8.
Roll out the pastry to 5mm/1/4" thick and using a 10cm/4" pastry cutter, cut out two circles. With a 7.5cm/3" cutter, cut an inner circle part way through each. With a medium heart shaped cutter, cut out two hearts (these will form the lids).
Place the pastry shapes on a baking sheet and cook in the preheated oven for about 5 minutes, until risen and golden. Cool on a wire rack, then remove the centres from each pastry circle, making sure you remove as much of the inside as possible to leave room for the filling.
Heat the oil in a saucepan and gently cook the leek until tender. Add the mushrooms and cook over a high heat to evaporate the liquid. Stir in the shoyu, grated ginger and seasoning.
Add the flour and cook, stirring for 2 minutes. Stir in the soya cream and cook until thickened. Stir in the pine nuts.
Reheat the vol au vent cases at 180C/350F/Gas 4 for about 15 minutes. Heat the filling and spoon into the hot cases. Top with the heart shaped lids at an angle.
Place each one on a large serving plate and surround with griddled baby vegetables (carrots, sweetcorn, mangetout are colourful), drizzled with a little warmed and diluted sweet and sour sauce if liked.
Recipe created by the Cordon Vert cookery school
This page can be found at: http://secretsauce.co.uk/vegetarian/mushroom-recipes/leek-and-mushroom-en-croute/
A short link can also be used: http://bit.ly/hrIVkt
Vegetarian Society

The Vegetarian Society is a registered charity committed to promoting the health, environmental and welfare benefits of a vegetarian diet.
More from Vegetarian Society

These Halloween snails look deliciously slimy. Who's going to be brave enough to take the first bite?

A fantastic ale and mushroom pie recipe perfect to warm you up when it's chilly outside and you want something tasty and filling

Need some get up and go in the morning? This smoothie is just what you need. Ready, steady...
Popular in mushroom recipes

These little mushroom pies look so impressive but are really easy and quick to make.

The perfect quick dish - the combination of garlic, mushrooms and cream is taken to another level

Add a real kick to mushrooms with harissa paste - a North African hot red sauce made from chillis, garlic, coriander, cumin and olive oil