Mushrooms en croute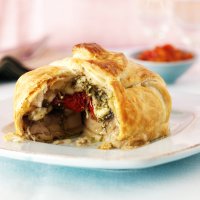 These little mushroom pies look so impressive but are really easy and quick to make. They would make a wonderful main course for meat eaters and vegetarians alike, or if cut in half and served with salad they would make an unusual starter.
Prep: 10 mins
Cook: 20-25mins
Serves: 4
Energy(kcal): 544
Protein: 18.2
Fat (g): 36.7
Of which saturates (g): 15.6
Carbohydrate (g): 37.7
Of which sugars (g): 3.2
Fibre (g): 2.5
Salt (g): 2.00
Contains a over a third of your RDA of calcium and folic acid
What you need:
1 (375g) pack ready rolled puff pastry
4 large white flat mushrooms
60ml/4 tbsp fresh pesto sauce
8 sun dried tomatoes in oil, drained
150g/5oz mozzarella cheese, sliced
milk to glaze
What you do:
Preheat the oven to 220C/Fan 200C/Gas Mark7. Unroll the pastry on a lightly floured surface, then use a rolling pin, lightly roll the pastry so that is measures 38x 32cm (approx 15x12in) and cut into four pieces. Place a mushroom in the centre of each pastry rectangle.
Top the mushrooms with the pesto sauce, tomatoes and mozzarella cheese. Season. Brush the edges with milk. Now bring the corners of the pastry up and over the topping and press to seal together.
Place the pastry parcels on a large baking tray and brush all over with milk. Bake for 20-25mins or until the pastry is golden. Serve hot with vegetables and a sweet tomato or pepper relish on the side.
Make these ready to bake, unglazed and wrapped in clear film they will keep for about 48 hours, ready to be baked off at the last minute.
This page can be found at: http://secretsauce.co.uk/vegetarian/mushroom-recipes/mushrooms-en-croute/
A short link can also be used: http://bit.ly/fpBFaD
Skandi Candle
Pure soy wax candles in Flack Fig & Vetiver or Lemon fragrances - perfect for any dinner party or romantic night in.
Mushroom Bureau

Not only are mushrooms inexpensive and versatile, they are also satisfying, delicious and nutritious. Their succulent and unique meaty taste adds depth and gives a balanced flavour to dishes, making them a scrumptious meat substitute.
More from Mushroom Bureau

Actress Tamzin Outhwaite is a great fan of mushrooms - she loves this recipe for a quick, delicious and healthy stroganoff - perfect for a week-night

Tender prawns are great in stir-fries, the cashew nuts give this dish an added crunch and the shiitake mushrooms are tender and full of flavour

This delicious spaghetti dish is ready in under 15 minutes and you could serve it cold for a packed lunch the next day!
Popular in mushroom recipes

The perfect quick dish - the combination of garlic, mushrooms and cream is taken to another level

Add a real kick to mushrooms with harissa paste - a North African hot red sauce made from chillis, garlic, coriander, cumin and olive oil

Everyone will be hungry when they smell and see the wonder that is beautiful fried mushrooms and warm melted quark oozing between the toast