Creamy garlic mushrooms on toast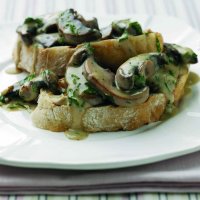 The perfect quick dish if you have some Rodda's left in your pot. The combination of garlic, mushrooms and cream is taken to another level
Preparation: 5 mins
Cooking: 10 mins
Serves: 2
What you need:
2 tbsp olive oil
25g butter
2 garlic cloves, sliced
250g small Portobello mushroom, sliced
100ml Rodda's Cornish Clotted Cream (perfect if you have some leftover!)
2 tbsp parsley, chopped
4 slice of ciabatta bread
What you do:
Heat half the oil and butter in a shallow pan over a low heat. Add the garlic and cook gently for 1-2 minutes without colouring.
Add the mushroom slices and cook for 3-4 minutes until golden brown, stirring occasionally.
Add the Rodda's Cornish Clotted Cream and parsley to the pan and bring to a simmer.
Heat a griddle pan until smoking. Drizzle the ciabatta with remaining oil and place on the griddle for 30 seconds to a minute until charred. Turn over and repeat.
To serve, place the toasted ciabatta bread on a plate and top with the creamy mushrooms. Garnish with chopped parsley.
This page can be found at: http://secretsauce.co.uk/vegetarian/mushroom-recipes/creamy-garlic-mushrooms-on-toast/
A short link can also be used: http://bit.ly/gZEyLX
Rodda's Cornish Clotted Cream

Cornish Clotted Cream is one of the few British foods to have been awarded the accolade of a PDO. This Protected Designation of Origin recognises and protects the uniqueness and distinctiveness of our cream. More important still is the expertise of the
Rodda
family who, for over a century, have been distilling the best of Cornwall into a single mouth-watering treat: Cornish Clotted Cream.
More from Rodda's Cornish Clotted Cream

A delicious Christmas pudding served with a dollop of mouth-watering Rodda's Cornish Clotted Cream

Use whatever fruit is in season - raspberries, strawberries, blackberries - and indulge in this delicious fruity pavlova

Perfect for handing around with a bit of mulled wine, or maybe after a spot of carol singing, these Cornish rum Nickys will certainly warm you up
Popular in mushroom recipes

These little mushroom pies look so impressive but are really easy and quick to make.

Quick and easy to make, these burgers are great for summer barbecues - just add a big dollop of houmous as the finishing touch

Everyone will be hungry when they smell and see the wonder that is beautiful fried mushrooms and warm melted quark oozing between the toast