Sausage meat plait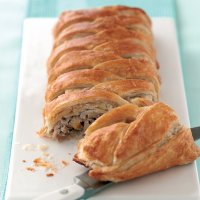 This is a classic British dish that's like a giant sausage roll. Serve with greens and mustard for a traditional dinner for two
Preparation time: 10 minutes
Cooking time: 40 minutes
Calories per portion: 885 Kcal
Fat per portion: 59g of which saturated 21.4g
Serves: 2
Suitable for freezing
What you need:
Pork sausages 4, skinned (approximately 250g/9oz)
Onion 1 small, peeled and finely chopped
Cooking apple 1 peeled, cored and chopped
Chopped sage 1tbsp or 1 tsp dried
Salt and freshly ground pepper
Puff pastry ½ x 500g pack
Vegetable oil for greasing
Egg 1, beaten for glaze
What you do:
Preheat the oven to 200˚C/400˚F/Gas 6. Mix together the sausage meat with the onion, apple and sage for seasoning.
Roll out the pastry on a lightly floured surface to a 30cm (12in) square. Cut around the edges to neaten them. Then make 5-6cm (2-2 ½ in) long cits on the opposite sides of the pastry, at a slightly downward angle and about 2.5cm (1in) apart -but not opposite each other, alternate them instead. Brush water around the edges.
Place the sausage meat mixture in the centre of the pastry. Fold down the pastry top, then bring up the cut sides, alternatively overlapping them to give a plaited effect, folding up the bottom edge of the pastry before bringing over the final side strip. Press the pastry together well at the ends to seal it. Slide the plait onto a lightly greased baking sheet, then brush the pastry with the egg glaze.
Bake the plait in the centre of the oven for 30-40minutes, or until the pastry has rise and is golden. Remove from the oven and serve either hot or cold.
Handy cook's tip:
Ensure the baking sheet is large enough to take the plait before it's made. If it's not, make the plait shorter, but slightly wider.
Handy shopper's tip:
Look out for all-butter puff pastry for the best flavour, and vary the recipe by using different types of sausages.
This page can be found at: http://secretsauce.co.uk/meat-poultry/sausage-recipes/sausage-meat-plait/
A short link can also be used: http://bit.ly/eEi0kq
Skandi Candle
Pure soy wax candles in Flack Fig & Vetiver or Lemon fragrances - perfect for any dinner party or romantic night in.
Dairy Diary

The new Clever Cooking for One or Two cookbook is priced at £9.50 (plus £2P&P). To order a copy or for further information call 0845 0948 128, speak to your local milkman or visit Dairy Diary
More from Dairy Diary

While you're getting this together, why not double up on the ingredients and freeze a lovely chicken and leek pie for another time?

When it comes to cakes, very little beats a moist, soft, light, fruity muffin and these raspberry versions are no exception

This is real crowd-pleaser so double up on the ingredients and put four of these pear and cinnamon crumbles in the freezer for future use
Popular in sausage recipes

Cocktail sausages cooked in honey are popular finger food, but wait until you've tried these sweet chilli versions

This is the best breakfast, especially if you've over-indulged a little the night before, but don't save it until then, it's great for dinner too!

Feed your family for less than £3 with this credit crunch winter warmer smoked pork sausage and bean casserole