Sausage, bacon & potato hash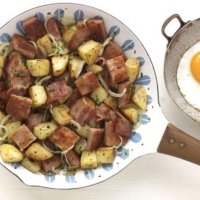 This is the best breakfast, especially if you've over-indulged a little the night before, but don't just save it until then, it's great for dinner too!
Serves: 4
What you need:
2-3 medium potatoes, such as Desiree, cut into ½ inch pieces
1 tbsp olive oil
4 Richmond Thick sausages cut into ½ inch pieces
6-8 rashers of streaky bacon, chopped into large pieces
1 onion, peeled and sliced or chopped
Salt and pepper
2 tbsp chives, finely chopped
1-2 tbsp vegetable oil
4 eggs
4 plum tomatoes cut in half lengthways
Salt and pepper
What you do:
Pre-heat the grill to HIGH.
Bring a pan of salted water to the boil and cook the potato pieces for 6-8 minutes, or until tender. Drain and set aside.
Meanwhile, heat the oil in a pan and fry the sausage pieces for a few minutes on each side until cooked through. Remove from the pan. Fry the potato in the pan until golden brown and set aside with the sausage. Next fry the bacon in the pan until crispy and set aside. Finally fry the onion for a few minutes to soften and then return the sausage, potato and bacon back to the pan and toss together to warm through.
Season to taste and stir through the chopped chives.
In a separate frying pan, heat the oil until hot and crack in the eggs. Fry for 2 minutes until hot splashing the top with a little oil. Drain on kitchen paper.
Place the tomato halves on to a baking sheet, sprinkle with salt and pepper. Grill for 3-4 minutes.
To serve, spoon the sausage hash onto plates and top with the fried egg. Serve the griddled plum tomatoes alongside.
This page can be found at: http://secretsauce.co.uk/meat-poultry/sausage-recipes/sausage-potato-bacon-hash/
A short link can also be used: http://bit.ly/i2NU28
Richmond Sausages

The
Richmond Sausage
range has something for every sausage lover. With Richmond's smooth texture and unmistakeable flavour, it's easy to see why they're popular whatever the occasion.
More from Richmond Sausages

A mouth-watering, comforting dish filled with flavour that'll fill you up and warm you from the inside out

Give your family a delicious dinner with this filling sausage omelette that's quick to make, using ingredients you probably already have!

Hot dogs are so much better when you make them at home. These have mustard, bacon and caramelised onions to give them a delicious flavour
Popular in sausage recipes

This is a classic British dish that's like a giant sausage roll. Serve with greens and mustard for a traditional dinner for two

Cocktail sausages cooked in honey are popular finger food, but wait until you've tried these sweet chilli versions

Feed your family for less than £3 with this credit crunch winter warmer smoked pork sausage and bean casserole