Cheesy leek jacket potatoes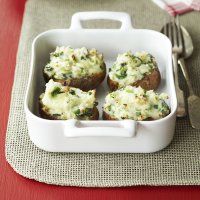 A mouth-watering mixture that tastes amazing on oven-baked potatoes
Preparation: 15 mins
Cooking: 120 mins
Serves: 2
What you need:
2 large Desiree potatoes
A little olive oil
Rock salt
1/2 a small leek finely shredded
2 tbsp milk
90g Coeur de Lion Pie d'Angloys cheese – cut into small cubes
Salt and freshly milled black pepper
What you do:
Oven temperatures in 190ºC/375ºF/Gas Mark 5
Preheat the oven. Prick the potatoes a couple of times and rub with a little olive oil and rock salt.
Place in the middle of the oven and bake for 1-3/4 to2 hrs until the skin is really crisp.
Remove from the oven and cut in half, scoop out the flesh and place in a bowl.
Add the finely shredded leek, milk and cheese. Season to taste.
Mash all the ingredients together and stuff back into the skins.
Place back in the oven and cook for a further 10-15 mins until cheese is melted and browning on top.
Handy cook's tip:
Add finely shredded bacon.
This page can be found at: http://secretsauce.co.uk/meat-poultry/potato-recipes/cheesy-leek-jacket-potatoes/
A short link can also be used: http://bit.ly/h09F2z
Coeur de Lion

Delicious range of authentic French cheeses. Cœur de Lion was born from the creation of a camembert so creamy and tasty that its unique recipe was patented. This camembert was so popular with consumers that Cœur de Lion started producing other soft cheeses, including Le Brie, Chaumes, La Buche, Chavroux, Crème de Brie and Pie d'Angloys. Cœur de Lion is part of a family run French cheese company founded by Jean Noel Bongrain in 1956. Now run by the second generation, the company is passionate about only making authentic and delicious French cheese.
More from Coeur de Lion

Bored of traditional cheese on toast? Step it up a gear with delicious brie, packed full of flavour

Mouth-watering home made burgers with an even more mouth-watering topping

A great dish which is simple to make, guaranteed to impress your other half
Popular in potato recipes

A delicious curry-filled baked potato with a fruity twist

Quick and easy corned beef hash and baked potato

This spicy chicken recipe adds a tasty kick to a jacket potato